Lawsuit accuses shipping company of "continuous and systematic succession of abuses" during 2021/22 export season
A group of Chilean fruit exporters have filed a lawsuit against Mediterranean Shipping Company (MSC). According to a report in Diario Financiero, the shipping giant has been accused by 23 Chilean fruit exporting companies of a "continuous and systematic succession of abuses" during the 2021/22 export season, resulting in losses of US$38m.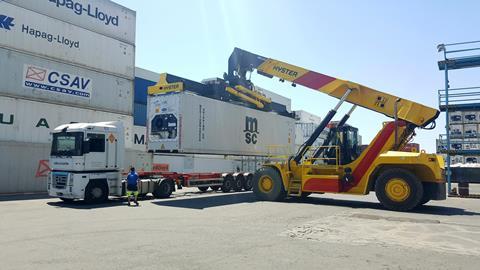 The lawsuit, filed at the Chilean Court of Defense of Free Competition, lists practices such as deliberate cargo delays and unjustified charges by MSC, which allegedly affected 994 containers on more than 20 different routes, representing some 16,000 tonnes of fruit.
The accusations suggest blueberries were the main product affected, but they also state that the damage extended to apples, pears, grapes, and citrus.
Lawyers representing the Chilean companies said their clients booked their cargo slots months in advance of the export season, but once maritime rates began to rise due to the Covid-19 pandemic restrictions, they said the shipping company decided to prioritise other routes, thus setting aside previous engagements.
They told the newspaper: "MSC, leveraged on the contracts it had closed, and with the certainty that it would continue to obtain the income from such contracts, deliberately chose to exploit other businesses to the detriment of our clients, altering the routes and the number of stops on the routes required by them, which it was able to do without any counterweight or risk of being disciplined, only because of the captive situation in which they found themselves".
MSC also allegedly charged the fruit companies for over-stays in the ports of destination, which lawyers acting for the fruit companies insist were already applied in advance, even without the certainty that they would take place.
According to the lawsuit, the exporters also incurred additional costs from each additional day that the container remained beyond the allotted time in the port (demurrage charge). In this regard, the companies maintain that these charges were applied when the goods were "in MSC's custody and could not be released at the ports of destination as a result of its own illegitimate delay."
The lawsuit requests that MSC be prevented from repeating this conduct, in addition to other corrective measures and fines.