Government has declared state of catastrophe in La Araucanía, Ñuble and Bio Bio
Chilean fruit exporter association Asoex has expressed growing concern over hundreds of wildfires triggered by the heatwave engulfing large parts of the country.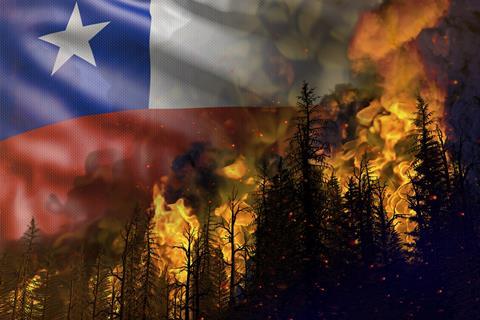 Asoex president Iván Marambio said there are no reports of serious impact on the fruit sector so far, as farms and packhouses are located away from wooded areas. But he said the industry is on alert and constantly evaluating the situation and coordinating with the authorities to support any action required.
With 280 active fires reported in coastal areas, the government has declared a state of catastrophe in the regions of La Araucanía, Ñuble and Bio Bio.
Marmbio expressed his condolences to the families and friends of those who have died or suffered injury or loss in the fires.
"It's a really complex situation in the country, because of the nature, our fields, and people are experiencing the impacts of different fire outbreaks that are exacerbated by the effects of climate change, such as the drought," he said.
Fruit producer association Fedefruta is also on alert as the continued high temperatures threaten the country's table grape, blueberry and stonefruit harvest.
With temperatures peaking at 42oC in central regions, president Jorge Valenzuela said growers have undertaken precautions such as the installation of solar protection to minimise the impact on crops and alleviate the situation for workers.