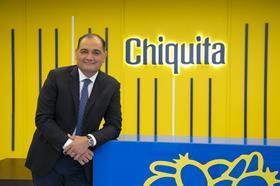 Central America experienced its most active Atlantic hurricane season ever last year, with a record breaking 30 named storms wreaking havoc across the region in a matter of weeks. Two in particular, Eta and Iota, left hundreds dead and hundred of thousands of people displaced.
Yet in spite of the trail of destruction they left in their wake, the storms caused barely a ripple in the international as the coronavirus pandemic and US elections continued to dominate the news agenda.
Honduras and Guatemala bore the brunt of Eta and Iota, suffering severe damage to homes, schools, roads, bridges and other infrastructure. The storms also left large swathes of the country under water, including many banana farms that are so vital to their national economies.
With an extensive production footprint in both countries, Chiquita knows better than most how grave the situation is on the ground. The multinational's president, Carlos Lopez Flores, has just returned from the region and witnessed the devastation first hand. He warns that in addition to the humanitarian crisis, the resulting loss in banana production will impact the international market in the coming months.
"Many families have been displaced and are now facing difficult living conditions, creating a dire humanitarian crisis which has been made more challenging by the pandemic," he says. "All of our farming operations and communities were deeply affected, even more than originally estimated, which has resulted in limited banana production for the foreseeable future. It will require a significant investment of funds and time to rebuild the affected areas."
Immediately after the hurricane hit, Chiquita sprung into action to begin spearheading restoration efforts. The multinational has been working with key relief and healthcare organisations and governmental bodies to help organise material donations, funds and logistical transportation. To date, it has donated more than 90 tonnes of relief aid to those in need, including hundreds of bags of fresh food and water for displaced communities.
"Beyond supplying shipments of bananas to distribute within the impacted communities, we have also offered the Chiquita vessels and container fleet to organisations who can help provide critical supplies to the Honduran and Guatemalan governments," Lopez explains.
"In addition, we have been coordinating medical support through health service fairs, medical dispensaries at Chiquita's farms and a company-sponsored health clinic located in La Lima, Honduras. More than 600 Honduran people have received medical care from one of Chiquita's medical providers."
According to Lopez, production losses have affected the banana supply chain for all producers in the region, leading to shortages and higher prices on the US market. In Chiquita's case, this has meant finding alternative sources in order to meet its programme commitments, resulting in fruit being diverted away from other markets to plug the gap left by Honduras and Guatemala.
This has, admits Lopez, required a major gear shift as the multinational has had to adapt swiftly to new shipping rotations, logistics operations and inland transportation requirements.
"Unfortunately, we have had to implement a surcharge to cover for the incremental cost to serve our main contracts in the US market, and this would equate to a relatively small increase to the banana retail price," he explains.
"We had to redeploy our supply chain to alternative sourcing countries such as Ecuador, which is the largest banana exporter in the world, where fruit prices have increased in a disproportional way.
"The sourcing costs in Ecuador vary with supply and demand. At present, and for the foreseeable future, supply is tight and therefore fruit prices are reacting to the reduced production from Honduras and Guatemala. In addition, sourcing from Ecuador entitles higher freight costs to the US."
As with Hurricane Mitch, Lopez recognises that it will take many years to rebuild communities and restore farms to normal production levels. "At this stage it will take longer to recover than we had initially anticipated," he says.
"The rehabilitation of the farms and the surrounding communities will require a heavy investment of funds and time. We continue to stay committed to rebuilding with every intention to resume production in both countries."
Lopez suggests that retailers may want to rethink their pricing strategy to take into account the added pressures growers are currently facing. Covid-19, TR4 prevention and the meeting sustainability goals already increase costs. On top of these the impact of the hurricanes has been dramatic, he says.
"The banana industry is so important to the communities in those countries that it merits and demands a sustainable and fair structure as many livelihoods depend on it," Lopez notes. "Cost recovery will require the support of the entire supply chain of the industry including our customers.
"Retailers play a key role in the supply chain, allowing consumers to have premium bananas in their homes, therefore it is appropriate and responsible for them also to play an active role in assuring fair pricing for bananas."