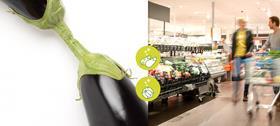 Vegetable seed company Rijk Zwaan has highlighted how breeding can help to meet consumer demands for sustainability through the launch of its CleanLeaf concept for aubergines.
'According to the Danish consumer association Forbrugerrådet Tæk, in Denmark retailers such as Aldi, Coop and Lidl are responding to this consumer trend by demanding that their suppliers stay well below the legal limits for pesticide levels,' the group outlined.
'To help them, Rijk Zwaan builds sustainability measures into its vegetable breeding process, not only by investing in breeding varieties with resistances to various diseases, but also by exploring other plant traits that can contribute to a more sustainable world. One example of such a project is the CleanLeaf aubergine concept.'
The first CleanLeaf variety launched, called Kesia RZ, thrives in Mediterranean conditions such as in Spain and Greece, and is also extremely suitable for biological cultivation, Rijk Zwaan noted.
CleanLeaf aubergine plants are almost hairless and therefore less attractive to certain pests. This improves integrated pest management and means that less corrective spraying is needed, resulting in less residue on the fruit.
Not only are the plants themselves hairless but so too is the calyx of the aubergine, plus it is greener compared to conventional varieties.
This makes it more appealing to consumers; consumer research has shown that 57 per cent preferred the greener hairless version compared to 31 per cent of consumers who preferred the conventional variety.
Research has also demonstrated that Kesia RZ has a good shelf life, leading to less food waste.
'Breeding for products with a good shelf life is yet another example of how Rijk Zwaan is helping growers and retailers to achieve their sustainability goals, the group said. 'As for consumers, they benefit from not only a more sustainable product, but also a more attractive one thanks to the greener calyx.'