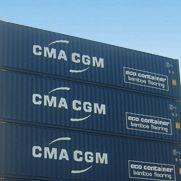 French container transportation and shipping group CMA CGM Group has announced the introduction of two new calls at the UK port of Tilbury and the Portuguese capital Lisbon as part of its French Europe Med Express (Femex) service, which links North Europe to Greece and Turkey.
The service extension, which is with immediate effect, will provide direct weekly connections from UK and Portugal to Greece and Turkey, with Tilbury featuring on the southbound leg and Lisbon scheduled as both a southbound and a northbound port of call.
According to a statement released by CMA CGM, the addition of Tilbury and Lisbon comes in response to growing demand from English and Portuguese exporters.
Underlining its 'comprehensive' port coverage in northern Europe, Portugal, Greece and Turkey, the group also said it would be able to offer 'significantly improved' transit times between Portugal, the Middle East, the Gulf and Asia by managing transshipment via its Malta hub, instead of Zeebrugge as was the case previously.
The company will also seek to offer improved shipment opportunities between northern Europe and Portugal via its intra-European specialist subsidiary, MacAndrews.
The new Femex rotation will be as follows: Göteborg, Helsingborg, Aarhus, Zeebrugge, Tilbury, Rotterdam, Lisbon, Malta, Piraeus, Istanbul Haydarpasa, Gebze, Istanbul Avcilar, Gemlik, Thessaloniki, Izmir Smyrna, Malta, Tanger Med, Lisbon, Zeebrugge, Göteborg.
'Thanks to these new calls to Tilbury and Lisbon, CMA CGM will provide its English and Portuguese customers with direct access to Greek and Turkish markets as well as new connections to the Middle East, Gulf and Asia via transshipment in Malta,' explained Europe Mediterranean line manager Bernard de Revel.