Solar energy now covers 80 per cent of the energy needs at the group's centres in Barcelona and Madrid
Spain's Fruits CMR has announced that it has just completed the commissioning of the second phase of the installation of photovoltaic solar panels at its headquarters in Barcelona.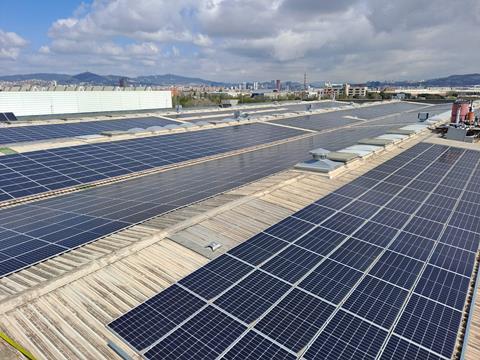 On this occasion, 1,040 collectors have been installed, which added to the 1,196 already existing, add up to a total of 2,236 solar panels arranged along a global surface of 4,522m2.
The group also has a 2,130m2 facility with 1,060 solar panels at its headquarters in Madrid. Together, the plates installed at both facilities generate a total of 1,240 kW, which covers 80 per cent of the total energy necessary for the operation of its facilities.
Its implementation makes it possible to generate clean energy that avoids the emission of 550,000 kg per year of CO2, or the equivalent of planting more than 35,000 trees.
This project is part of CMR Group's CSR policy, which is specified in the implementation of different actions aimed at improving both the environmental sustainability of the territories, and the social conditions of the local communities where they are located and develop its activities.