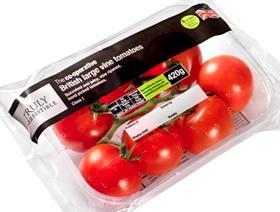 Uk retailer the Co-operative is set to use a new packaging system which it says can extend the shelf life of fresh produce by up to two days.
Packsof the retailer's own-brand vine tomatoes (400g) will be thefirst to use the new technology and will be rolled out into UK stores in May
The technology works by installing smaller perforationholes into packaging and the retailer says the new hole design is 'scientifically proven' to extend the life of the product by 'efficiently' controlling the amount of moisture.
The retailer says the new packaging, which was designed by packer Paragon and includes computer-guided laser-cut Modified Moisture Packaging (MMP) technology, is the result of extensive research.
"We know how important it is to our shoppers to make the most of their family budgetsand to reduce the amount of wasted food at home, so anything that can extend the shelf life of a product can only be a good thing,' said Iain Ferguson, environment manager for The Co-operative Food.
The new packaging technology has also been praised by waste agency WRAP, which estimates that around 60 per cent of the UK's annual household food waste is from food "not used in time", mainly perishable or having a short shelf-life, with a value of £6.7bn (€7.9bn).
Richard Swannell, director of design and waste prevention at WRAP said: "WRAP welcomes this innovation by The Co-operative Food. Food waste is a serious issue, and as our research shows packaging can have a significant role to play in helping reduce unnecessary food waste."
Ferguson concluded: "This simple solution enables customers to keep tomatoes at home for up to two days longer than before, which is a great achievementby Paragon's scientists."