A project to rebuild the social fabric in areas once blighted by armed conflict through farming and trade has helped thousands of farmers in rural Colombia
An EU-backed project to promote peace among ex-combatants from guerrilla groups in rural Colombia through productive development and trade has improved the lives of around 2,000 producers of Persian limes, coconut and cocoa from the department of Nariño.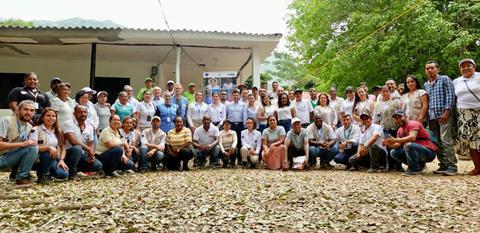 For almost four years, Colombia Puede (Colombia Can) has helped small farmers and producer associations to improve their competitiveness in the market by providing them with technical and financial support covering all aspects of production and trade.
Thanks to this initiative, which is financed by the European Union, through the European Fund for Peace and supported by the International Trade Centre (ITC), they have been able to increase their yields and the sale prices of their fruit, thereby allowing them to establish new business relationships and promote the growth and continuous improvement of their farms.
This includes 350 producers (114 of them women) who together exported more than 1,400 tonnes of Persian lime and cocoa to the Caribbean, US and Europe after obtaining the necessary export certifications, including organic and GlobalGAP accreditation.
Likewise, 1,705 producers (including 515 women) sold 593 tonnes of coconut, cocoa and Persian limes in the domestic market through nine marketing alliances. And cocoa organisations reported a 15 per cent increase in grain prices, thanks to the improvement in the quality of their products.
The project is also helping hundreds of farmers in Tumaco to start a new coconut fibre processing business to increase their income and, at the same tie, reduce the environmental impact generated by the pollutions caused by coconut farming.
Similarly, the scheme has helped the 33 farmers who make up the Nueva Esperanza del Pacífico Cooperative to increase their sales of coconut and cocoa in Colombia's Atlantic region.
Jesús Darwin Ortíz, a Persian lime producer from the municipality of Leiva, commented: "today we can say that Colombia Puede has been a total success for us and for the municipalities because it has improved the quality of our life.
"This project has managed to drastically change our vision and our way of doing business. Today we are entrepreneurs with an open mind, more confident in our abilities and much more motivated to continue selling our fruits. Also, it has helped us to mend the social fabric, because due to violence we distanced ourselves from each other and today we live in harmony".
An event was held recently to mark the completion of the project and showcase some of its most outstanding achievements. A group of lime producers from the municipalities of El Rosario, Leiva, Policarpa and Tumaco hosted a tour of their farms for representatives of the Delegation of the European Union in Colombia, the ITC, the Colombian Agricultural Institute (ICA) and other allied organisations.
It was an opportunity for them to show off the productive improvement, investments in infrastructure, the skills acquired through training, the sustainability strategies left by the project and, above all, the lessons learned from associative marketing.