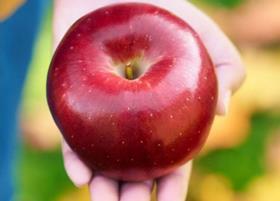 For the first time since its launch, the Cosmic Crisp apple will be on retail shelves in time for the Thanksgiving holiday.
Thanks to maturing trees and warm weather conditions, fruit will be harvested and shipped earlier than past release dates of early December.
The brand has a full line-up of promotional activities to engage consumers and retailers, from in-store promotions to editorial coverage and influencer marketing and partnerships, ensuring it is well positioned for a strong start to the season.
Next month the brand will hold an event for culinary professionals and food media in Birmingham, Alabama at which they will be able to get to know the variety.
The brand will also feature in recipes and advertising in a range of consumer magazines, including Martha Stewart Living, Better Homes and Gardens Magazine, Woman's Day and Origin.
The brand has also spawned a top selling drink, 2 Towns Ciderhouse Cosmic Crisp Imperial Cider, and further new offerings are planned for the coming season, including Crunch Pak Cosmic Crisp sliced apples, Tree Top Cosmic Crisp apple juice and Cosmic Crisp Tree Top apple slices.
"With a beautiful and large crop coming this year, we are making sure that consumers are served plenty of reasons to buy extra Cosmic Crisp apples during the fall and winter holiday timeframe," said Kathryn Grandy, chief marketing officer of Proprietary Variety Management, the company that markets the brand.
"The flavour, texture, striking appearance and versatility of Cosmic Crisp is what we all need for easy entertaining," she added.
Washington State farmers licensed to grow the club variety are planning to ship 5m cartons of Cosmic Crisp across the US during the season.
The apple, which was launched in 2019, reached 11th overall ranking in the apple category last year, in spite of limited availability and the challenges of promoting new brands in an uncertain time.
"We are proud of our Washington State farmers who have shown such dedication to the collective success of the Cosmic Crisp brand. It is a huge investment on everyone's part," Grandy said.
"Growing the category means we need to inspire consumers to increase consumption and live up to our commitment to quality. It's going to be a great season for the Apple of Big Dreams."