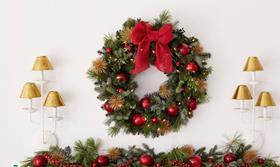 In the US, the Cosmic Crisp apple brand is aiming to position itself as a key part of consumers' holiday celebrations this year as part of its marketing drive.
Through partnerships with retailers, influencers and media, millions of shoppers are set to get a taste of the new Cosmic Crisp apple, as the brand looks to 'put a fresh twist on traditions'.
Publication in Martha Stewart Living and Better Homes & Gardens' Living section will showcase special recipes and seasonal decor all centred around the Cosmic Crisp apple, with both hitting newsstands on 13 November, just before the apples ship from Washington state across the country.
Expanded content will be available on the Cosmic Crisp website and social media platforms, including how-to videos, a holiday guide and a special giveaway including a signed copy of influencer Erin McDowell's new Book On Pie.
Major grocery retailers will support the campaign with in-store signage, social media content and select event activations.
"The original tree ornament was red apples," explained Kathryn Grandy, vice-president of operations and marketing for Proprietary Variety Management, the company responsible for promoting the apple to consumers. "After a bad crop year, glass ornaments were created and the rest is history.
'We are bringing the apple ornament tradition back and creating new ones with the Cosmic Crisp,' she outlined. 'Beyond recipes, its natural beauty is perfect for fresh decor.
"This year's harvest is much larger than last, and growers are ready to ship nationwide on 23 November, just in time for the holidays," Grandy added. "We receive messages from consumers every day asking when the apple will be back. The answer is: soon."