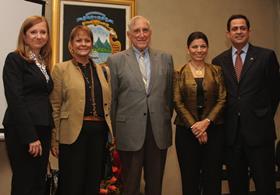 The Costa Rican banana industry has edged one step closer to achieving Protected Geographical Indicator (PGI) status after the government formally recognised the certification in a ceremony held at the Presidential House in San José late last week.
The Costa Rican Banana Corporation (Corbana) told Fruitnet.com it will now submit an application to the European Union (EU) Registry – an administrative process which will last at least six months but should be facilitated under the EU-Central America Free Trade Agreement (FTA).
"With the registration of the Protected Geographical Indicator "Banana of Costa Rica" we celebrate today another step towards the international recognition of our banana production," said Costa Rican President Laura Chinchilla Miranda.
President Chinchilla explained that gaining PGI status holds "enormous significance" for the Costa Rican banana industry, not only in terms of competitiveness but also culturally, historically and socially.
The PGI is designed to inform consumers that Costa Rican bananas are produced responsibly in accordance with high environmental, social, economic and quality standards.
Jorge Sauma, general manager of Corbana, said gaining the stamp is of the greatest importance for the banana sector since it will serve as a competitive tool to differentiate Costa Rica on the marketplace in terms of highlighting the fruit's added value and product quality.
Indeed, Anabel González, Costa Rica's Minister of Foreign Trade, added that almost 40 per cent of consumers in Europe are willing to pay up to 10 per cent extra for a PGI-certified product.