Following the recent launch of a new corporate identity, Italian group Vog aims to overcome a slowdown in demand and a spike in operating costs
Italian apple supplier Vog says the entire apple business faces a tough start to the new season following a sharp rise in costs and a notable downturn in demand.
The consortium brought its new Home of Apples concept to life this week at the Fruit Attraction trade fair in Spain, where its Marlene label is one of the market's best-known fruit brands.
One of Europe's largest apple producers, Vog also held a special gala evening at La Quinta de Jarama, a venue to the north of Madrid, to celebrate the launch of its new commercial identity.
It used this occasion to underline its broad product range as well as its commercial and retail category management expertise.
"The founding values of Home of Apples are origin, expertise, sustainability, products and labels," explained Vog chef executive officer Walter Pardatscher.
"This brand positioning concretises our business approach but also gives us the responsibility of creating value right along the production chain, from our members through to all of our partners and customers.
"Our Home of Apples is founded on knowledge, trust, authoritativeness and quality: from Spain we are telling all of the world's markets that we have the biggest apple experts and apples suitable for all needs, right through the year."
During the trade show itself, company representatives introduced Marlene's 2022/23 campaign, which involves a collaboration with three-time Michelin star winner and Michelin Green Star winner Norbert Niederkofler.
The chef has signed up to a series of promotional initiatives that focus on fine dining, the local area and sustainability.
"The common thread that links these activities remains that of the four seasons, a highly successful aspect of the brand's communications going back to last year," explained Hannes Tauber, marketing manager at the South Tyrolean consortium.
Tough challenge ahead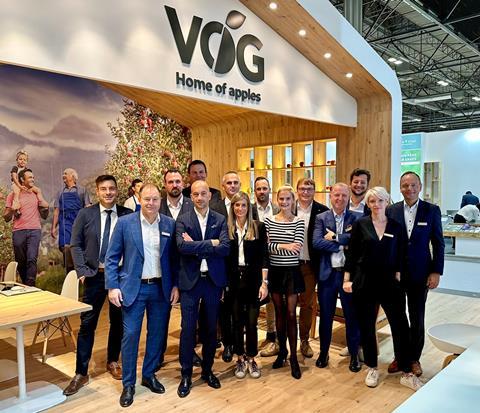 It's been a difficult start to the new season for many in the apple business. "Sales and consumption are down while costs are up but still largely absorbed by producers," admitted Klaus Hölzl, Vog sales manager. "Despite the 10 per cent inflation, for consumers apples still cost the same as they did a year ago."
Vog's new-season harvest saw a 15 per cent increase in organic produce and productive growth for numerous popular licensed varieties, which are sold under brands like Pink Lady, Kanzi, Envy, Yello, Joya, Crimson Snow, SweeTango, Giga, RedPop and Cosmic Crisp.
This week saw the launch of the new Kanzi sales season in Spain, Italy, Norway and the Middle East. Volumes of the variety are said to be "consistent" with previous years at around 28,000 tonnes split between Vog and fellow consortium Vip. According to Vog, it's an "incredibly flavoursome" apple that provides consumers with a welcome energy boost.
"Thanks to our variety renewal projects we have increased our new varieties and organic products," Pardatscher continued. "The wide assortment that we can guarantee our customers all year round is without doubt a strength that we will continue to leverage."
He added: "We are able to provide apples for today's consumers and we continue to work to produce apples for the consumers of tomorrow. Nevertheless, the situation remains difficult for our producers, for whom we are responsible for creating maximum production chain value."