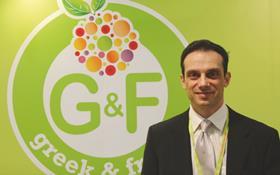 How has the Covid-19 crisis impacted fruit and vegetable consumption and purchasing behaviour in Greece?
Nick Nafpliotis: Consumption of fruit and vegetables has certainly increased during the crisis, and consumers have increased their online orders. There was already a popular trend for deliveries in Greece, but online orders have risen so rapidly that companies didn't have enough vehicles to fulfil them. A year from now, people are likely to retain some of these new habits. Like everywhere, Greece saw huge sales in the supermarkets in March, April and May. In an indirect way, the pandemic improved people's diets, just by forcing them to cook at home.
How do you see things developing in the months to come?
NN: In Europe, we are seeing partial lockdowns returning. In my opinion, this is how things will continue until May or June: up and down. This has had a huge impact on the foodservice sector in particular. Some items that are especially popular in foodservice like limes and pineapples might be affected more than others. But people are starting to live with the pandemic now. Back in March, when no one knew what to expect, we saw panic-buying of products with long shelf-lives like apples, pears and oranges. Now people know that business will flow relatively normally.
Who have been the main winners from this crisis?
NN: The bigger companies have done best out of all this. Growers with good connections with retail chains have been able to sell their products more easily. In some countries, supermarkets have around 70-80 per cent of the market. We will focus on strengthening our relationships with the major retail chains in Europe. We are trying to do some programmes with asparagus, broccoli, strawberries, oranges and mandarins, so we are looking to establish some more retail customers in markets like Slovakia, Czechia, Bulgaria, Romania, Hungary and the Baltic countries.
How is the new kiwifruit season looking in Greece?
NN: The kiwifruit crop looks similar to last year's, perhaps slightly larger in volume. Italy appears to have higher volumes this year, but some sizing issues. We expect sizes to be medium to small, which is good, as demand for these sizes is strong. Growers have been harvesting the early Greek variety, Tsechelidis, and the Hayward crop is just beginning. Last year, the South Korean market opened up for Greek kiwifruit, so exports should start this year. We do not export kiwifruit to Asia, only strawberries, blueberries and stonefruit.
Have you been affected by higher airfreight rates?
NN: Since the pandemic, and especially in April and May, airfreight rates were two-and-a-half to three times higher than usual. These high rates were prohibitive for any kind of business, so we saw a 70 per cent reduction in our airfreight business.
For China, there were a lot of cancellations last kiwifruit season following the lockdown, with shipments shifting toward the European market. Things are looking a bit better for the new season, unless we begin to see a big crisis in China or somewhere else. Airfreight will continue to operate, although working at very low capacity. Airfreight rates are currently around 40-50 per cent more expensive than before the crisis. This is a somewhat workable level, so we expect our airfreight business to recover partially for the upcoming season.
How did the crisis impact the berry campaign?
NN: The pandemic hit during the peak season, in April and May. In March we were doing very well, but then the campaign collapsed, thanks to lockdowns, closures of stores and increases in airfreight rates. Since berries are quite expensive and delicate, people were afraid to order this type of product when they were avoiding regular trips to the supermarket. From April we basically stopped our berry exports by air. However, from the third week of April until the end of May, there was a noticeable increase in European demand for strawberries, and that helped growers to partly recover losses from the beginning of the lockdown.
When it comes to strawberries, we are continuing our long cooperation with Labidino. Last season, they experimented with a more durable variety that is better suited to airfreight, called Victory, and we received good feedback. Traditionally, we have been selling Fortuna, but in May and June the shelf-life is not so good, so Labidino will be increasing their production of Victory for the new season. They have also recently completed an expansion of their facility with more packing lines and storage areas, which will greatly help them accommodate their increased production capacity.
Have you ventured into any new areas of business?
NN: For the first time this season, we are doing some programmes of Greek avocados. We've done it in the past, but now we are doing it more formally, with regular programmes with retailers. Production is in Crete and has been increasing over the last five years, with green, Hass and Fuerte. Growers are planting more Hass, removing orange trees to make way for new plantations. They are becoming more popular in Greece, so we want to boost exports to our markets. In the last four to five years, we are seeing a growing demand for more Greek products in countries toward the east of Europe and the Baltic states.
We want to deliver products that are less known to retailers in these markets, such as avocados, asparagus and broccoli. Production of broccoli is still small compared with the demand on the market, and we are seeing a consistent shortage of supplies from Spain and Italy. In Greece, consumption of broccoli has increased over the last few years, just like avocados. For most growers, the priority tends to be the domestic market, so it's our job to persuade them to diversify into different markets.
Enjoyed this free article from Eurofruit Magazine and its team of editors? Don't miss out on even more in-depth analysis, plus all the latest news from the fresh produce business. Subscribe now toEurofruit Magazine.