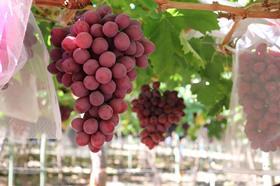 Consorcio Tecnológico de la Fruta (Fruit Technology Consortium) has unveiled the first commercial red table grape variety developed within Chile.
According to Patricio Arce, director of the CTF's table grape genetic improvement programme, the early to mid-season variety has a well-defined red colour, and a crunchy eating texture, "like an apple", a long postharvest shelf-life and high productivity. It can be harvested from late January, an attractive market window for Chile.
"It has a very green and thick stalk, which contributes to the quality and condition of the fruit," said Rodrigo Sapiain, advisor to the programme.
"Likewise, it has a calibre of 19-21mm in this period of new plants, so we believe that later we will be able to have calibres of 20mm upwards. It is also a fruit that tolerates rains very well, in terms of resistance to fungi.'
Arce said the behaviour of the new variety has been evaluated in six locations from Copiapó to Paine and on different rootstocks, 'and in all areas and rootstocks it has shown very good results, so we believe it will be a very important variety in the market in the coming years".
CTF's general manager, Sergio Maureira, said the new variety has been developed to respon to the needs of the market and the national industry.
"Today, the Chilean table grape industry is undergoing a reconversion process and this new variety arrives at the right time to support this process, since it is being developed for Chilean producers and exporters," he said.
"We are the main exporting country in the Southern Hemisphere, the main supplier of table grapes on a global level and the main supplier of countries such as China, which is why, with this variety, we believe that we are also making a leap to being a benchmark in the development of fruit genetics and supplying ourselves with our own varieties."
CTF was created in 2006, and currently runs five genetic improvement programmes for table grapes, raspberries, stonefruit, apples and cherries.
This is the first variety developed by the grape programme, which has been running since 2007 and has also made advanced selections of black table grapes that could soon be launched commercially.
To date, the programme has 31 advanced selections of table grapes, of which 10 are "very promising".
'We are very satisfied with this variety, because it is the result of a long and arduous multidisciplinary endeavour. It is the first red variety in Chile and developed by this programme," Arce said.
"People have come from breeding programmes in other parts of the world, and they have all concluded that it is an excellent variety."