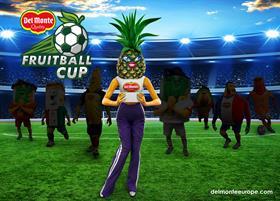 In a year where many sports events have been cancelled due to the Covid-19 pandemic, Del Monte Europe is aiming to reignite the passion of frutrated fans by launching its own 'Del Monte Fruitball Cup 2020'.
The interactive competition will take place on Del Monte Europe's Facebook and Instagram pages, and the fans of fresh and preserved fruits as well as sport amateurs will be able to join in.
"We are very excited to launch this fun competition, as we believe that despite the difficult situation of Covid-19 pandemic people are looking for small occasions to smile and entertain themselves" said Thierry Montange, marketing director Europe and Africa.
The campaign will consist of a friendly competition between European nations where the brand features social media's fans pages.
The Del Monte 'fruitball' players and characters will be recognisable as some of the company's range of products.
Each follower will be able to defend its own nation during the games up until the final, and prizes will be rewarded to the most enthusiastic and creative fans, including a special reward for some amateur football club in need of support.

The campaign will kick off on Saturday 27 June, a date that coincides with International Pineapple Day.
"We picked this particular date in order to leverage this celebration which is very important for us as a worldwide leader in fresh produce pineapple,' Montange noted. 'It was natural to kick off this campaign by spreading the word of Del Monte pineapple's many benefits for sports aficionados and for other people as well.'