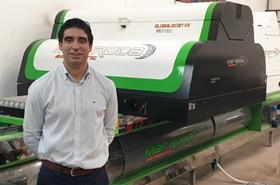 Roda Ibérica, located in Alzira, Valencia, is the main subsidiary of Maf Roda Group, with over 300 employees and more than 10,000m2 of facilities in Spain. Its offices in Seville, Almería, Murcia and Lleida enable the company to provide a local service in all production areas of the country.
Last year's expansion of the new Cedis-Maf facilities in Lleida has increased the production capacity, according to area manager Jaime Mendizabal,allowing each centre to specialise on one type of machinery in order to ensure the highest quality levels across the entire group.
Following the Maf Roda Group's philosophy, Roda Ibérica's twin focus on innovation and diversification has helped it to see continuous growth in the last decade, according to Mendizabal.
"This work philosophy has allowed us to consolidate and grow in our more traditional markets, such as citrus, apples, stonefruit and tomatoes," he said, "but it has also allowed us to enter and grow in emerging markets like kaki, subtropical fruits, berries and even organics. Spain has a geographical and climatological diversity that allows the cultivation of many types of products. The location of Roda Ibérica and Cedis-Maf therefore gives us a notable advantage over our competitors since our development teams are closer to the problems faced by our clients and can develop solutions more adapted to their needs."
Such diversification has apparently kept the company's order book relatively stable throughout the Covid-19 crisis. "It is true that Covid-19 and the uncertainty generated have caused a slowdown in decision-making as far as the Southern Hemisphere is concerned," said Mendizabal. "However, the strength and diversity of the national market have allowed us to more than compensate for that delay, and the volume of the order book has not been affected."
Although the volume of orders has remained stable, the type of orders has not, with personnel restrictions in fruit and vegetable warehouses boosting demand for automated sorting and packing lines. "The commitment shown by the Maf Roda Group over the years to robotisation and artificial intelligence has been justified," said Mendizabal. "Our customers are focusing their investments on processes that involve a concentration of staff, leading to a considerable increase in demand for automatic packing systems, such as Speed Packer, Line Pack and Fast Pack, as well as for automatic sorting systems."
The Globalscan 7 automatic quality system, with its multi-spectral cameras, is designed to allow companies to dispense with sorting operators while maintaining the homogeneity and consistency of the product. "The versatility and ease of use of the system allows the operator to quickly adapt the quality criteria to the requirements of each market," said Mendizabal, "ensuring optimal use of the fruit at each moment of the campaign."
Of course, precision and reliability are essential ingredients if a machine is truly to reduce the need for labour, and Mendizabal believes Maf Roda's ability to innovate both mechanically and electronically is the difference.
"Proof of this is the new Cherryway 4 sizer," he said, "which combines mechanical innovation, in terms of rotation, with electronic innovation, allowing us to analyse the entire surface of the cherry, obtaining much more precise results while drastically reducing maintenance needs. Today, our sorting systems for both external and internal quality offer our customers such a degree of precision that they can amortise the investment in a very short period of time due to reductions in personnel and a more optimal use of the product."