Roberto Castello will head up alliance producing black seedless watermelons sold under the new brand
New Italian black seedless watermelon consortium, Dolce Passione, celebrated its official inauguration at this week's Macfrut trade fair in Rimini, a year after the brand's launch.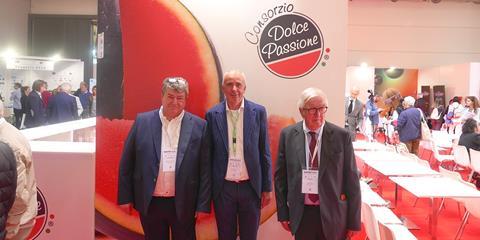 The consortium will develop new commercial opportunities for the brand, which it claims has been well received in the market since its debut last year.
Roberto Castello has been elected president of the new group and Luciano Trentini has been named as director.
The companies involved in Dolce Passione are seed specialist Lamboseeds and producers Alma Seges from Salerno), Padua-based Ortofrutta Castello and Lorenzini Naturamica from Mantua.
The main variety of black seedless watermelon grown under the brand, which is sold in the Italian and the Northern Europe market, is Giotto.
The watermelons are characterised by their thin, bright, and uniform skin and red and crunchy pulp. They have a minimum Brix of 12o and typically weigh 4-6kg.
Around 60ha were planted in 2022, yielding a total volume of 3,200 tonnes. With 200ha planted this year, production is expected to reach 8,500-9,000 tonnes. The consortium has also extended its production season thanks to having a wider spread of open field and greenhouse cultivation in different parts of Italy. Most of the melons will be sold through retailers.
The consortium plans to launch a marketing campaign for Italy and European to further grow sales and consumption of the watermelons.
Italian produced 509,000 tonnes of watermelons on a total planted area of 10,108ha in 2022. The main growing regions are Lazio, Puglia, Campania, Lombardia, Emilia Romagna, Sardinia, Sicily and Veneto.
Research shows that 15m Italian families bought watermelons at least four times last year.
As a product whose consumption is influenced by the climate, the sector anticipates sales will further increase as global temperatures rise.
"Watermelons are also popular because of their low calorie content, thirst-quenching properties and high levels of lycopene, which is beneficial for health," Dolce Passione said.