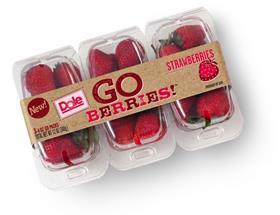 In the US, Dole Berries if offering a smart solution for busy strawberry lovers looking to enjoy their favourite fresh fruit snack on-the-go, in the shape of its newly launched Dole Go Berries! product.
Dole Go Berries! consists of three snack-size packages that snap apart, with each one containing 4oz of fresh Dole Strawberries, designed to capitalise on the growing mobile snacking trend.
Ventilated for freshness and easy rinsing, the proprietary package is the first to provide 'snap-rinse-go' convenience.
"While fruit remains America's top daytime snack choice, there hasn't been an easy way for shoppers to enjoy their favourite berries away from home – until now," said CarrieAnn Arias, vice-president of marketing for Dole Fresh Vegetables and Berries. "Dole Go Berries! allows busy shoppers to combine their preference for fresh strawberries with out-of-the-home snacking convenience for the first time."
As a leader in fresh Strawberries, Blueberries, Raspberries and Blackberries, Dole plans to roll-out other Go Berries! snack varieties in the future.
According to Arias, Dole Home Use Tests indicate that 80 per cent of those sampling Go Berries! would likely purchase the product, and 60 per cent of berry consumers would buy Go Berries! in addition to the customary 1lb clamshells. In addition to convenience, panelists cited the perception that the snack-sized packs would keep the berries fresher than conventional packaging.
"We're looking to expand how – and where – berry lovers enjoy their favourite fruit," said Arias. "Simply snap-off one of the right-sized snack packs, rinse right in the package and enjoy the goodness of Dole Strawberries wherever you go.
'Go Berries! satisfies the growing preference to take berry snacking outside the home and offers a unique, fun, fresh and healthy alternative to nutrition and energy bars,' she added.