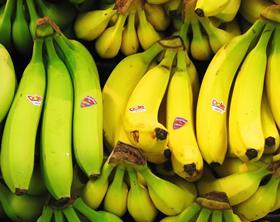 Dole has revealed that it is supporting National Banana Day on 21 April with a week of celebratory marketing aimed at motivating consumers to enjoy more bananas and retailers to stock more of the fruit.
Starting 18 April and continuing through to 24 April, Dole will implement an integrated marketing campaign consisting of banana-themed digital, social media, PR, blogger/influencer and in-store elements spotlighting the health, convenience and recipe benefits of bananas.
Some Dole retailers will commemorate the day with produce manager display competitions that put bananas centre stage, while others will utilise Dole-provided downloadable content to engage shoppers.
"As the producer of America's favourite banana, we see National Banana Day as an opportunity to thank the tens of thousands of growers, packers, retailers, transportation specialists and others that have kept the fruit at the top of everyone's shopping list," said Bil Goldfield, Dole's director of communications. "Given the past year, we knew we couldn't accomplish all of that in just one day so we extended the festivities to a full week."