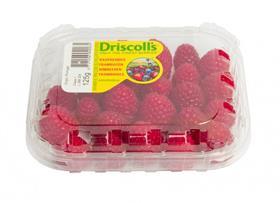 Soft fruit producer-marketer Driscoll's has announced that it is launching a new raspberry packaging concept, in a bid to decrease its carbon footprint while increasing the visibility of its fruit.
The 12* 125g packaging is designed to 'serve customers in the best possible way', the group said, and was first launched at the end of April.
'Research has shown that consumers have a preference for a more visual packaging,' the group revealed. 'Therefore, Driscoll's has decided to introduce a flat, single-layered, almost square punnet with great berry visibility. 87 per cent of the consumers think this new raspberry packaging makes a 'good to very good' first impression. Also, the new packaging scores higher on buying intention.'
The packaging is, importantly, effective and efficient for retailers and growers as well, the group said, allowing Driscoll's to reduce transport by improving efficiency through increasing the number of punnets included in each box. This leads to 30-40 per cent more berries per pallet, per truck. At the same time, there will be 30 per cent less cardboard used, reduced waste and lower pallet numbers by 30-40 per cent, helping the group make crucial sustainability gains.
'The new raspberry packaging will still be offered next to our current 8* 125g packaging,' Driscoll's added. 'The packaging solution is not only an opportunity for Driscoll's, but also for our customers and consumers, by creating a more sustainable and appealing presentation.'