NLHortiRoad2India seeks collaboration with local partners to improve local food systems in India
A trade mission from the Netherlands will travel to India this week to promote healthier, more profitable food systems through the Dutch high-tech greenhouse model.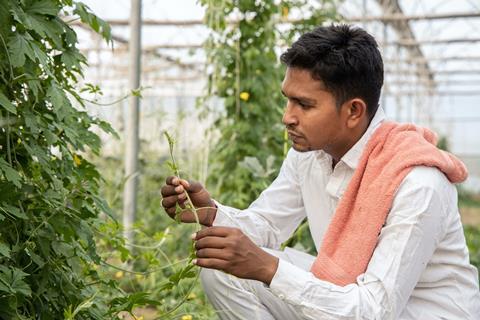 The Dutch partnership of leading horticultural companies, 'NLHortiRoad2India, said it sees numerous opportunities to improve local food systems in India, where vegetables and fruit often contain alarmingly high levels of pesticides and chemicals due to outdated agricultural practices.
This is the group's third journey to India. The visit will begin at World Food India, which takes place on 3-5 November in Delhi. Here, the Dutch horticulture sector will showcase its demo greenhouse, giving visitors "the opportunity to observe the cutting-edge technology up close and truly immerse themselves in the innovative world of Dutch horticulture".
Desh Ramnath, director of Dutch Greenhouse Delta and coordinator of NLHortiRoad2India, commented: "The Netherlands collaborates with countries around the world to improve local food systems. Combining India's local expertise with our global knowledge and expertise, we can assist India in achieving greater self-sufficiency in food production.
"Profitably upscaling Indian horticulture with high-tech solutions is the primary focus of our consortium, NLHortiRoad2India, in collaboration with the Indian industry."
On Saturday 4 November, the group will hold a session on Indo-Dutch cooperation in Indian Horticulture, organised in collaboration with the Dutch Embassy in India.
"The event will take place at World Food India and is aimed at retailers interested in making a positive impact on health, sustainability, quality, taste, and profitability, growers prepared to invest in advanced systems for cleaner, safer, and more profitable crops, and investors enthusiastic about supporting the future of Indian horticulture," the organisers said.
Those wishing to register can do so at Dutch Greenhouse Delta's website.
After World Food India, the trade mission will travel to Uttar Pradesh, where the local government has invited NLHortiRoad2India to explore how Indo-Dutch cooperation can enhance the economy in this state.
The delegation will then visit Goa to assess the opportunities presented by the state's thriving tourism industry. Discussions with the hospitality industry will focus on sustainability and improvements in the food supply chain to make a positive impact and enhance food quality, in line with market demands.