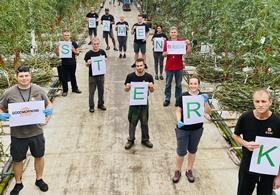 One of Europe's largest tomato suppliers says that planning and preparation in advance of the coronavirus crisis enabled it to hit the ground running ahead of the lockdown that has brought much of Europe to a standstill.
Henri Lambriex, who joined the Dutch tomato specialist as chief executive 18 months ago, says the outbreak has thus far had a minimal impact on his business, mainly thanks to measures taken early on. "Sales of speciality tomatoes have hardly been affected by the coronavirus crisis," he tells Fruitnet. "In terms of business operations, we took measures early on. In early March, the office in De Lier was no longer open to visitors. Stair railings and door handles were disinfected. Later, provisions were added for packaging staff, such as plexiglass partitions and measures for drivers."
Lambriex is proud of his employees for making plans early, while the virus was still spreading in Asia but there was less concern in Europe. 'When the infection spread in China, we took action here quickly. Foresight is crucial to our business attitude. So even before the government took action, we had already prepared plans here and implemented how to work in a situation of social distancing. It turned out that, if we wanted our employees to work from home, we were short of 30 laptops and a lot of webcams in particular. So we were easily able to order those back then. Now everything is sold out or much higher in price.'
Now, in the eye of the storm, the extreme situation is prompting RedStar to lengthen its stride in terms of innovation and efficiency. "The crisis has led us to adopt working methods that we will now stick to, like remote digital meetings between our various locations," Lambriex reveals, adding that he is seeing evidence of greater solidarity and closer connections within the company. "Everyone is helping each other wherever possible, which creates a lot of understanding about the situation. A lot of attention is being paid to the health and safety of employees and we are also taking the necessary measures for this. The attention we give each other is greatly appreciated and I see that every day in the commitment that everyone shows. We want to keep this commitment after the crisis. Strong together.'
Getting on with business
Like any other, this season is hugely important to RedStar, which has significantly expanded production of a promising new truss variety called Red Desire in order to move towards the premium end of the market. The group recently signed contracts with leading supermarket chains in the Netherlands and Germany on that basis. Maintaining that supply is of paramount importance.
Despite the closure of much of Europe's restaurant and catering industry, RedStar has remarkably seen sustained demand from wholesalers. "It is hard work to get all orders to the customer on time," Lambriex reveals. "The crisis isn't affecting our business and I don't expect it to do so, especially now that catering entrepreneurs are picking up the thread again with takeaways and delivery meals. "
Logistics arguably represents RedStar's biggest challenge – especially when it comes to ensuring employees can get to and from where they need to be. "These are mostly Poles who live together in houses," Lambriex reveals. "Normally, we bring them home in a van, but because of the coronavirus rules, a maximum of only two people are allowed in a car. Not everyone has their own car though, and in fact we have one house with seven employees, none of whom has a driving licence. Fortunately, we have a logistics colleague who loves a challenge. Despite a few headaches, he managed to make an appropriate transport plan."
As for those who drive the lorries that carry its tomatoes, RedStar has apparently been praised by Dutch trade union CNV and by logistics companies for the way it treats them. "I read in the newspapers that when they come to load or unload at companies, drivers are not allowed to get out, to use the loo or to be treated like a real human being. I was shocked by that," Lambriex explains. "These knights of the road do their best day and night to supply all the wholesalers and supermarkets. This should be cherished. As all roadside restaurants had to shut like other catering establishments, we decided to welcome all our truckers with a packed lunch every day. We also have a special toilet and shower room for them, which we keep constantly clean, so that they can comfortably make a sanitary stop."
Preventing the spread of disease is by no means a new undertaking for a company like RedStar. Those in the tomato trade are more than familiar with tomato brown rugose fruit virus (ToBRFV), a relatively new disease that can spell disaster for growers. Its spread in the past five years has reinforced the need for producers and packers to enforce strict hygiene standards and avoid cross-contamination via their logistic networks. "We are used to being prepared for viruses," Lambriex observes. "We were already armed to the teeth to protect ourselves from ToBRFV. We succeeded and we still succeed. Coronavirus came on top of that. With such discipline, our personnel have so far been protected from contamination. I sincerely hope we can keep it that way."