Throughput falls during the first nine months of the year, attributed to unstable geopolitical and economic conditions
The Port of Antwerp-Bruges has reported that its throughput for the January-September period was 204.4m tonnes, a drop of 6 per cent compared to the same period last year.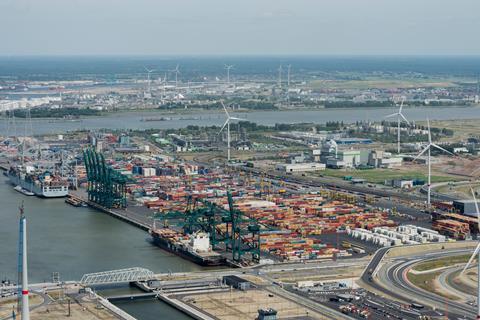 "The still unstable geopolitical and economic conditions are negatively impacting demand for container traffic around the world, while the picture is still mixed for other cargo flows," the port stated.
"Thanks to the strong international position of our unified port, for which sustainable growth remains the priority, the market share of the container segment is growing compared to the other ports in the Hamburg–Le Havre range."
The uncertain economic climate has led to containerised trade flows falling around the world, and this was reflected in Antwerp-Bruges' 6.5 per cent drop in container throughput in tonnage, and 6.8 per cent in TEUs.
Despite the decline in container throughput, Port of Antwerp-Bruges' market share in the Hamburg–Le Havre range actually grew 1 percentage point to 30.6 per cent in the first half of the year.
"The continued economic and geopolitical concerns have been visible in the figures for several quarters now," said Jacques Vandermeiren, CEO Port of Antwerp-Bruges.
"The competitiveness of European industry is under pressure due to high energy, raw materials and labour costs combined with low global demand.
"The indicators do not yet show any improvement for the near future, and container throughput will still be impacted in the fourth quarter by cancelled voyages from the Far East," he continued.
"Despite the fact that our throughput is falling less than the average in the Hamburg-Le Havre range and we are gaining market share, we will have to face the fact that 2023 will not be a top year."