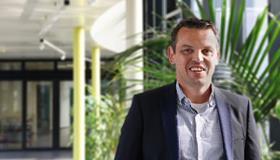 Edwin Vanlaerhoven has announced his resignation as managing director of Dutch fresh produce company Valstar Holland, a leading supplier of greenhouse vegetables and other fresh produce.
'After seven great years as director of Valstar and the Best Fresh [group] I have recently decided to leave the company,' he said in a post on LinkedIn, confirming he would be departing at the end of October.
His role will apparently be covered on an interim basis by Hans Mulder, with Best Fresh chief executive Mart Valstar also on hand in an advisory role to ensure the business continues to run smoothly on a daily basis.
Daily operations and commercial activities will be covered by management at Valstar's various business units.
Vanlaerhoven has played a key part in the import-export firm's growth over the past decade, but said he wanted to explore other opportunities.
'This summer I took the time to think about my ambition and to do some reflection,' he explained.
'I have decided that I am ready for another phase in my career. I can look back at a very enjoyable and successful period in my professional life and would like to thank everybody I have worked with over the last years.'
He added: 'Together we have achieved great results and I am more than convinced that towards the 100-year anniversary of Valstar Holland more successes will follow.'