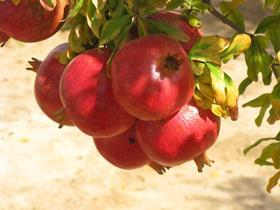 Egyptian exporters were racing to export their Early 116 pomegranates to European markets this August, according to Ahmed Ghazy, marketing director at Nile Establishment for International Trade.
Although the harvest was delayed by two weeks due to climatic issues during the flowering process, exporters are optimistic concerning prices, which have grown by 14.3 per cent over the past three months, according to Ghazy.
He said that the steady increase in demand for pomegranates in recent years has been due to their "superfruit' status, especially given the current Covid-19 pandemic and consumers' subsequent desire to eat healthy.
According to Ghazy, the Early 116 variety gives Egypt, as well as a few other countries across the world, an early-season advantage, while another early variety, Baladi, enjoys a good reputation in European and Gulf markets.
He added that the global pomegranate trade was expected to grow by nearly 29 per cent over the next five years, from US$204.3m at the end of 2019 to US$263.7m by 2025.
"This year, we are witnessing clear growth in the global demand for pomegranates due to the conditions of the coronavirus," he said, "despite the growth in global prices of 14.3 per cent during the last three months. Prices of early varieties like 116 and Baladi will see relatively higher growth than last season, beginning almost two months before the Wonderful variety. Egypt will therefore have a higher chance of competitiveness and achieving good numbers compared with last season."
In addition, he said, many Egyptian pomegranate farms are using advanced types of fertiliser, including organic ones, a move likely to increase demand in European markets.Egyptian pomegranates also have a price advantage over their competitors in Turkey, Spain and Israel, thanks to the country's lower cost of production.
According to Ghazy, Nile Establishment for International Trade equally benefits from the most modern technology when it comes to sorting and grading.
"We use the Globalscanversion 6, with an external analysis system that guarantees the products are carefully sorted according to their colour, shape and external quality," said Ghazy. "The Globalscan version 6 can be used for analysing the entire surface of products such as pomegranates and oranges."
Ghazy revealed that demand had been high this season from the Italian, Dutch and Malaysian markets, while demand from the Spanish and Greek markets was also increasing.
"Egyptian companies are looking to earn a good share of the European market this season, especially in those countries where organics are in high demand, such as in northern Europe," said Ghazy.