Export volumes are down by 50 per cent compared to this time last year
El Niño is having a major impact on Peru's blueberry export campaign. Figures from consultancy Fresh Fruit Peru show shipments to mid-September were running at 40,527 tonnes, just half of the total for the same point last year.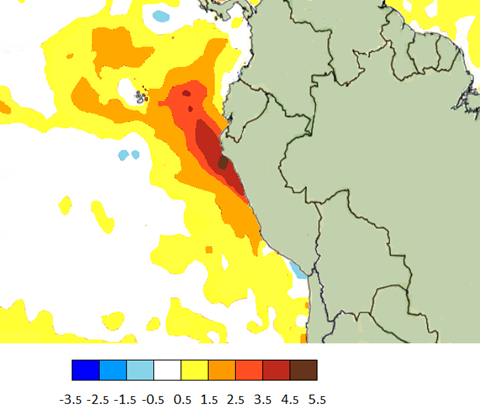 In week 36 (4-10 September), exports to Europe totalled 1,623 tonnes, 66 per cent less than in the same week of 2022. Shipments to the US for that week were down 64 per cent at 3,513 tonnes, and shipments to Asia registered a drop of 41 per cent to 684 tonnes.
Luis Miguel Vegas, general manager of industry association Proarándanos, said the fall in production is due to the higher temperatures resulting from the El Niño phenomenon. He warned that early forecasts of a 10-15 per cent drop in volume for the season running from May 2023 to April 2024 will probably have to be revised downward.
With European production winding down, the result is a shortage of fruit on the market.
Ian Crispin, commercial director of the UK's Pacific Produce, told Fruitnet: "Demand is really starting to pick up as the UK and European crops exit the marketplace. Prices have almost doubled in the previous two weeks and we see things getting even tighter as we head into October and progress through the month".
According to Vegas, one of the varieties most affected by the heat is Ventura, which at 6,000ha is the most widely planted variety in Peru and accounts for 35 per cent of all exports.
"There is of course Argentina and South Africa, the two main players that can provide some cover during this period, but Peru's dominance in recent years has been so strong that the shortage this time around is bound to be felt and prices from other origins will increase accordingly," Crispin continued.
Asked about the likely extent of Peru's shortfall, Crispin noted: "The numbers from Peru are a bit mixed, some say it is facing a decrease of approximately 15 per cent this year, others that the number could be bigger. What is certain is that it will be a very slow and delayed start. Usually we're in full swing with arrivals by the end of September but I don't see that really happening until around the end of October.
"The supply curve could be a lot flatter too, so while the very high prices we're starting to see might come down as we approach November, it's certainly not going to be a buyer's marketplace this year".