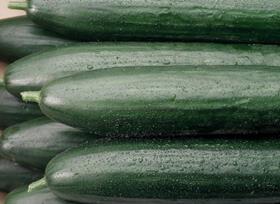 Enza Zaden has launched a new cucumber variety with intermediate resistance (IR) to the Tomato Leaf Curl New Delhi virus (ToLCNDV), better known as New Delhi virus.
The seed specialist said the new E23L.16447 has also shown resistance to CGMMV, powdery mildew, yellowing and yellow veins, making it one of the most resistant varieties on the market to date and a major breakthrough for the sector.
"The variety E23L.16447 has been developed as part of our Greencumbers concept, a range of cucumbers that stand out for their better postharvest and shelf-life associated with the high quality of the fruit, helping to curb food waste and favoring the plastic-free trend," the company said.
Oscar Herrerías, cucumber sales manager at Enza Zaden, commented: "Farmers know that there is a lot at stake; for this reason our improvement team is constantly looking for varieties that are increasingly productive and offer great fruit quality.
"With E23L.16447 we can provide more security in your harvest."
The new variety E23L.16447 is being marketed as the most resistant cucumber variety for the late production window.