The latest edition of the seed company's House Fair focused on sustainability, continuity of supply and differentiation
Seed specialist Enza Zaden recently held its annual House Fair in Spain to present its latest offerings to the trade. Under the theme 'Creating value together', the event showcased new developments in cucumber, tomato, pepper, pumpkin and courgette, reflecting the latest market trends, challenges and opportunities.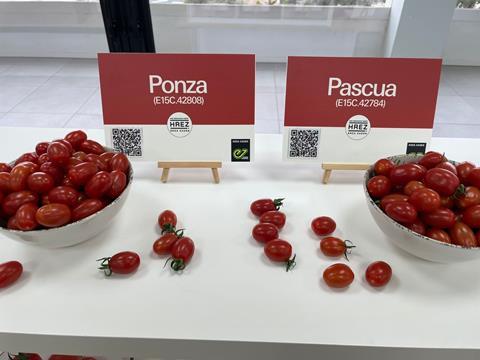 Sustainable offerings included the Greencumber, a Dutch cucumber with an extra-long shelf-life, even without shrink wrapping, the easyQs mini cucumbers designed to reduce food waste, and Vitalis, the company's 100 per cent organic seed brand.
Giuseppina Inturrisi, marketing specialist at Enza Zaden, commented: "Differentiation and continuity of supply are two challenges that are of great relevance in the market due to the current socioeconomic situation.
"Consumers still want differentiation; We continue to witness the increase in the consumption of coloured sweet conical peppers throughout Europe, as well as the increase in the consumption of mini cucumbers".
She said easyQs, together with the company's Tribelli peppers, available in various sizes, colours and production windows, provided the differentiation that the market is looking.
With the higher cost of energy and viruses and crop diseases increasingly affecting European supply, Enza Zaden offers a range of disease resistant varieties including TomAzur, a vine-flavoured cocktail tomato that can be grown without heating.
In the California pepper segment, the company presented new variety Castamar, a yellow pepper for the late season segment resistant to powdery mildew, along with two new varieties of California red (soon to be launched commercial)ly and a yellow pepper, for field production in Cartagena, with resistance to powdery mildew and nematodes.
Pulosari, Hyffae, Mesut and Sujaki jalapeño were among other new offerings in peppers.
In tomatoes, varieties with high resistance to tomato rugose virus were the main novelties; in fact, the seed house, a pioneer in the discovery of resistance, has material with high resistance in all segments.
The company also presented Pascua and Ponza in the pear cherry segment, along with several soon-to-be-launched varieties with high resistance to ToBRFV and TYLCV, Morlaco, Arrebol and Arkoi beef tomatoes and Cedros and Azores pear tomatoes.
In courgettes meanwhile, Colette continues to be the star variety, while two outdoor varieties, Keesha and Metis, complete the portfolio.
In pumpkin, Vaiana was uveiled as the newest addition to Enza Zaden's Butternut portfolio.
Another feature of the day was the red pumpkin segment, in which Enza Zaden is the leader in north-central Europe.
"In this segment we have a wide portfolio, starting with the star Orange Summer and the novelty Flexi Kuri," Inturrisi said.
"We believe that the consumer trend is moving more and more towards versatile and easy-to-eat products: this type of pumpkin, which does not need to be peeled, can be preserved over time and has a truly convenient size, perfectly meets the demands of consumers. and it can represent a great opportunity for the market."