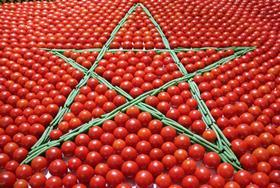 Janusz Wojciechowski, the European Commission's agriculture commissioner, this month rebutted accusations of labelling fraud levelled by Spanish MEP Jordi Cañas against Morocco concerning tomatoes produced in the Western Sahara, according to a report from New In 24.
Back in June, Cañas had referenced a report from NGO Mundubat and agrarian organisation Coag alleging that tomatoes produced in the Sahara were being labelled and sold as a Moroccan product.
'A recent report revealed that 7-14 per cent of the tomatoes that Morocco exports to Europe are actually produced in Dakhla, in Western Sahara which is illegally occupied by Morocco, from where they are transported by land to Agadir (Morocco),' Cañas stated to Parliament. 'There they are mixed with tomatoes from Souss-Masa and are packaged and labelled for export as a product produced in Morocco.'
This, he said, was a 'breach of numerous European laws and of the EU-Morocco Association Agreement'.
'This makes it impossible for European consumers to know the true origin of the products, in a clear breach of EU labelling rules and of the agreements signed, and also creates unfair competition for European producers, leading to a collapse in tomato production in producer countries such as Spain,' he said.
However, in a parliamentary response on 13 September, Wojciechowski confirmed that the allegations of labelling fraud were unlikely to lead to an inspection by the EU.
The commissioner stated that for fruit and vegetables originating outside the EU, third countries were able to perform their own checks to ensure conformity to EU standards.
'Morocco is one of the nine third countries where the inspection body has provided satisfactory guarantees as to the personnel, equipment and installations necessary to carry out checks using equivalent methods in the Member States,' Wojciechowski said.
He added that trade preferences for agricultural products originating in Morocco had been extended to those originating in the Sahara.
'Products originating in Western Sahara are granted the same preferential tariff treatment as those under the EU-Morocco Association Agreement,' he said. 'The Commission is not aware of any evidence that the Agreement may be implemented in a manner inconsistent with its provisions.'
Over the last five years, Moroccan tomato exports to the EU have risen by 15.8 per cent, North Africa Post reported, while Spanish and Dutch tomato sales have fallen by 27.5 per cent and 21 per cent respectively.