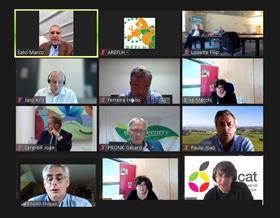 Europe will face a sharp decline in pear production for the coming season, delegates at the Interpera international pear congress heard on Tuesday.
AREFLH, the main organiser of the digital event, brought together 20 speakers from the six main producing countries in Europe: Italy, France, Belgium, Netherlands, Spain and Portugal. The data announced and detailed by the experts during the production session of the webinar, all indicate that Europe is expecting a significant drop in its pear production for the 2021 campaign.
The widespread frosts in March and April will cause a fall in volumes across all production regions, with the exception of Portugal. In France, the decline is estimated at 50 per cent while in Belgium the crop is expected to be 30 per cent lighter.
Beyond the past and future campaign, the second focus of Interpera was on trade. Members of the import/export roundtable considered that the estimated drop in production will force good planning of the season in order to avoid leaving markets and customers destitute.
The third and final part of the congress highlighted pear consumption trends in Europe. The participants agreed that demand was satisfactory during the health crisis, but said it was regrettable that a pandemic is needed to stimulate the consumer's desire for a healthy diet.
The speakers at the round table agreed thatcommunicationon the health benefits and flavour of pears remains the key to boosting demand.
To this end, Interpera is to launch a challenge to encourage consumption among young people, particularly through social networks, and the challenge of innovating to obtain new varieties, to broaden the visual and taste offer.
The Interpera steering committee said it hoped to be able to meet up with the main players from the sector again next year in a face-to-face event in Rotterdam, where the congress will be organised by the Dutch Produce Association (DPA), provided the health situation in Europe allows it.