Israeli exports of pitayas and mangoes have fallen due to the impact of Covid-19 and heightened competition, but pomegranate exporters remain optimistic
Pitayas
Prior to Covid, 60 per cent of Israeli pitayas were exported, but that figure has collapsed since the pandemic. Fortunately, the local market has learnt to love the fruit – at a good price for growers. Although there is demand from France, the UK and Germany, it is only later in the season that some fruit is expected to be exported.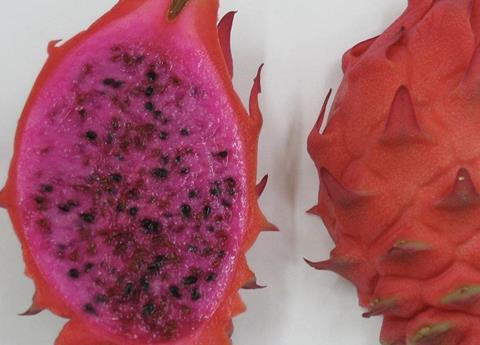 Annual production of Israeli pitaya stood at 500 tonnes last year and is expected to rise this season. This year, about 60-70 per cent of the summer crop should arrive between mid-September and December, while the winter crop, with the Desert King variety, is harvested from January to March.
The leading Israeli variety – the Bilu series developed by Yossi Zaphrir of Eden Fruits – has a purple flesh and a distinguishable taste much favoured by consumers. Eden Fruits has attained a license to export pitaya to the US, but that channel has yet to be exploited.
Mangoes
Israeli mango exports, mainly targeted at Europe, used to enjoy a three-month window, but that has slowly shrunk to around one month, as larger volumes of fruit from West Africa head to Europe in the early part of the season and Brazil and Spain dominate during the later period.
There are about 2,500ha of mango production in Israel, with close to 90 per cent of orchards located around the Sea of Galilee in the north. Producers face a dilemma between growing high-yield varieties like Kent and Keitt, and varieties with colour that generate higher market prices. Shelli has good colour and a reasonable yield while Omer has excellent colour but is less fruitful. Maya is the leading ready-to-eat variety, a segment that is increasing in demand.
In addition to traditional markets in Europe like the UK, France, the Netherlands and the Balkans, Israeli mangoes have found new growing export markets in eastern Europe and Russia.
According to Yossi Knop, marketing and sales manager at Galilee Exports, there will be a slight decrease in export volumes this year, mainly due to the large fruit size, a quality less desired in the EU. Israel's share of the European mango market stands at around 20 per cent.
Pomegranates
Israel has around 2,500ha of pomegranate production, of which 20 per cent is located in the north, 25 per cent in the Shomron region and 56 per cent in the south and the Negev. Growers are optimistic thanks to increased global interest in pomegranates, with early Israeli-bred varieties and locally-developed post-harvest and storage technologies extending availability.
Production totals around 70,000 tonnes, of which 10,000 tonnes is exported. Galilee Exports is responsible for around half of that export volume, the rest shared by Edom, Miriam Shoham and some private packhouses.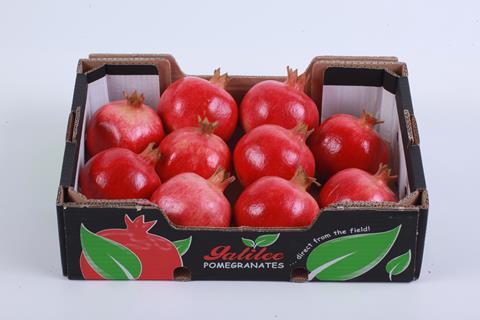 Wonderful is the dominant variety with about 60 per cent of fruit-bearing trees. Early Israeli-bred varieties such as Acco, Shani and Emek are now grown on 30 per cent of the area while the remaining 10 per cent is used for newer, experimental varieties. Harvesting of the early varieties starts in July, mid-season varieties at the end of September and early October, and the peak harvest season runs from October to January.
Half of exports go to western and central Europe, 40 per cent goes to eastern Europe, primarily Russia and Ukraine, and the remainder to destinations including Canada, Jordan, Hong Kong and Sri Lanka.
Pomegranates are increasing in popularity worldwide due to their marketing versatility, being sold as a whole fruit, as arils extracted and packed and as a fruit juice.
Lychees
Israel currently boasts just 250-300ha of lychee production, but an increase in the planted area is expected to lead to significant growth in volumes, according to Yossi Knop.
"We see demand for lychee increasing in EU markets, as it is perceived as a very refreshing fruit in the increasingly hot summer months," he says.
Israel exports around 300 tonnes per year, over half this quantity by Galilee Exports, the rest by Mehadrin and Miriam Shoham. This year's exports will be down by about 30 per cent because of lychees' cyclical production trend.
Growers are reportedly looking for early harvesting lychees with large fruit, primarily produced for the local market. After many years of Mauritius being virtually the only variety grown in Israel, the leading variety is now Hong Long, a variety from Vietnam. Israeli researchers have also developed a variety with a smaller seed and therefore more flesh. The seed weighs around 4g compared with 23g for the Mauritius variety.