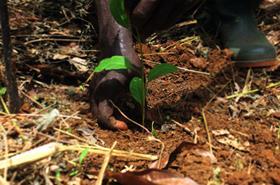 A partnership between Fairtrade and crowdfunding platform Grow Ahead aims to address the local challenges of climate change, delivering 'comprehensive climate mitigation solutions' for smallholder farmers through 'targeted agroforestry efforts'.
The initiative commits Fairtrade and Grow Ahead to supporting reforestation projects at Fairtrade-certified producer organisations as part of their climate adaptation and mitigation efforts and in order to meet forthcoming EU legislation on the deforestation impact of imported commodities.
"While global leaders meet in Glasgow, Fairtrade and Grow Ahead are committing to tangible efforts in delivering concrete solutions for those made most vulnerable by climate change," said Dr Nyagoy Nyong'o, Global CEO of Fairtrade International.
"As the recent Fairtrade and Climate Change report made clear, the threat to the future of our planet's farmers and agricultural workers is very real and very severe,' he continued. 'The time to stop talking and take action is now and that's exactly what this partnership does."
The partnership kicks off with fundraising to support a project with Ghana-based Fairtrade-certified cocoa producer Kuapa Kokoo.
The reforestation effort, dubbed the Agroforestry and Cocoa in Ghana project, will see 150,000 timber tree species and 30,000 fruit trees planted, with 11,942 acres to be reforested over an initial two-year period.
The project will reportedly work with 2,075 farmers across 25 communities in Ghana's Offinso municipality, reforesting the land to create microclimates, reducing the impact of climate change on farmers.
"Our planet's farmers and agricultural producers are on the frontline of the global climate crisis," said Nyong'o. "But far from being victims, they remain integral in developing those key climate solutions that can reverse environmental degradation and pave the way towards a more sustainable tomorrow. That's what this partnership is all about."