The origin of the blaze, which swept through one of the market's six fruit and vegetable pavilions on Saturday, remains unknown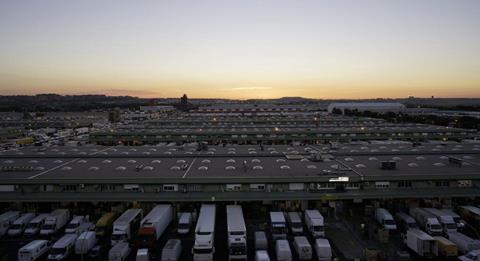 A fire that broke out in the fruit and vegetable pavilion of Mercamadrid on Saturday night has been brought under control, the fire authorities say.
The fire spread through an area of around 6,000m2 in Pavilion A of the fruit and vegetable market, affecting 11 companies and 30 points of sale.
A spokesperson for the fire service said on Sunday that 3,000m2 of the market have been completely destroyed.
The market's managing director, David Chica, told local reporters that produce sales would not be affected in the aftermath of the accident: "Today is a sad day for Mercamadrid, we are working to return to normality as soon as possible. But the first thing we want to make clear is that fruit supply is guaranteed," he said.
"We have been working round the clock to find a solution so that [the companies affected] can resume activities as quickly as possible."
The origin of the blaze is not known. Police will carry out a full investigation once they are able to access the pavilion.
Mercamadrid is Europe's biggest fruit and vegetable market. Covering 65,000m2 spread over six pavilions, it houses 153 companies operating 342 outlets. In 2020 the market sold 2.228m tonnes of fruit and vegetables.