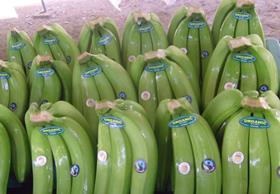 A group of organic banana growers in Peru has come together to create the country's first organic banana cluster in order to improve the sector's competitiveness and make production more sustainable.
The group, based in Piura, northern Peru, accounts for 40 per cent of the country's organic banana output, worth more than US$125m a year.
The project, which is backed by the government and NGO Solidaridad Internacional, is focused on improving the economic, social and environmental aspects of banana cultivation.
Its aim is to improve the safety and quality of Peruvian bananas in order to better position them on the international market and achieve higher prices.
Peru is the world's leading exporter of organic bananas, with the bulk of production located in Piura. The country has a distinct advantage over its competitors in that its bananas are organic by default due to the climatic and geographical conditions in the north of the country which result in a low incidence of Black Sigatoka and other diseases.
However, the sector has seen growing competition from other suppliers such as Ecuador, Brazil and Mexico. It also faces other challenges such as the higher logistics costs associated with using the port of Paita, which is more expensive than Callao, and issues with water mismanagement.
The cluster is seeking to strengthen the banana production chain by implementing more sustainable practices, which will reduce its carbon footprint improve water management.
It has already identified a number of strategies to enhance the sector's competitiveness, including restructuring the region's producer base, better plastics management and the provision of training.
One of its main goals is to develop a carbon neutral certification scheme that will help differentiate its bananas in international markets.
According to Valentin Ruiz Delgado, president of the National Banana Board (JNB), Peru's organic banana production was on course to contract by 10 per cent in 2020 as a result of the restrictions of operating during the Covid pandemic, climate change, and the mismanagement of water resources.
It is hoped the new cluster will bring about significant improvements in competitiveness to enable it to reach its full potential on the global market.