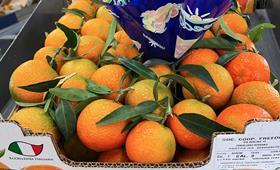 As director of Italian citrus cooperative Freedom, Alessandro Montalto is certainly convinced of the mantra that superior product quality is what generates a premium in a crowded marketplace.
Located in Corigliano Calabro near Cosenza in the southern region of Calabria, on what might be described as the front of the arch of Italy's foot-shaped peninsula, the group began to harvest its early clementines in early October. "We are a few days late because of the warm September, but there won't be any impact on the production calendar," says Montalto.
Fruit quality is said to be excellent, with "beautiful sizes and very high sugar content". Total harvested volumes should be equal to last year's crop, which means around 4,000 tonnes
"We have decided to focus everything on quality rather than quantity," Montalto comments. "We are fortunate in terms of our climate and our soils, and we have undertaken accurate checks on what our members are doing as well as targeted fertilisation. Producing high-quality products is the only way to stand out in the market, where there is certainly no shortage of product from abroad. Fruit should be eaten for taste and not out of necessity. We have to return to this old concept."
The cooperative's clementines are marketed under the Freedom brand in supermarket chains, wholesale markets and some independent stores, The most common retail packaging format is the 2kg cardboard trays, which Montalto says respond perfectly to the needs of the end consumer.
Demand is good, but the commitment to high quality has to be maintained. "We must always deliver fruit that tastes good, with a high sugar level, so the consumer develops trust and buys it again," says Montalto.
Quality is key when it comes to price
That quality in turn is what generates the right kind of prices. "At the moment, we are happy with the prices we get for our clementines, which do not differ so much from other products, but just enough to enhance our uniqueness," he continues. "If the fruit's good, you see it in the demand and we keep shipping new consignments."
Once the clementine harvest finishes, the cooperative moves on to oranges. Again, quality for this product is good, even though Freedom does not expect a large quantity.
The company's citrus season extends until March. "We are trying to produce more of the varieties that people like more, and which we have already tested in our fields," Montalto adds. "For example, we want to extend the season for citron, grapefruit and lemons, so we can offer a broader range. Soon, we will also start producing very expensive Navel oranges. We prefer to finish the season with our own products, not imported from Spanish competitors. Our commitment is all geared towards quality."