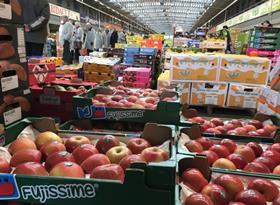 France is looking to boost its fruit exports to Colombia, where demand for imported produce is on the rise.
According to a report in Agronegocios, Colombia currently imports around 3,000 tonnes of French apples and kiwifruit a year.
Daniel Soares, international marketing manager of Interfel, believes that this could rise to 5,000 tonnes in the short term and 10,000 tonnes over the medium term.
"We are very happy with Colombia and we are sure that it is a market that will grow more, because not only is there demand all year round, but we have good relations with importers," he told Agronegocios.
Marc Peyres, commercial director of Blue Whale Exports, said there was room for more French producers to export to Colombia.
"With so little apple production in Colombia and none of kiwifruit, we believe it can be a market with high potential for our growth," he noted.
Colombia produces a vast array of fruits and vegetables, but has very little apple production and virtually none of kiwifruit.
In spite of this, apples are among the 15 most widely consumed fruits, with Colombians eating an average of 1.8kg per year. With an annual national production of just 1,800 tonnes, Colombia relies of imports to make up the 90,000 tonnes of apples consumed each year.
In 2018, apples accounted for 31 per cent of Colombia's total fruit and vegetable imports, with a value of US$92m.
Demand for kiwifruit is also on the rise, thanks to its perceived health benefits and high Vitamin C content.
Interfel said it is now working on an agreement allowing France to export plums to Colombia. Soares pointed out that French shallots might also have the potential to do well in the South American country.