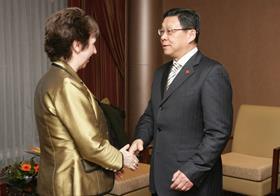 As high-level meetings between trade officials from the European Union and China take place in Beijing, European fresh produce industry association Freshfel Europe has renewed its calls for a more balanced relationship in the fresh produce trade between the two economies.
With EU trade commissioner Catherine Ashton due to meet her Chinese counterparts in the Chinese capital this week, Freshfel has submitted a position paper to the European Commission's Directorate General for Trade in which it raises concerns about the status of the bloc's fruit and vegetable trade with the Asian country.
Ms Ashton's visit follows the High-Level Economic and Trade Dialogue (HED) discussions held in Brussels in May, a regular series of trade meetings between the EU and China that was set up two years ago.
Fresh produce trade between the EU and China is increasing every year, but according to Freshfel the overwhelming majority of this trade remains imports from China into the EU, whilst export volumes from the EU to China, described by the group as 'insignificant', continue to stagnate.
In particular, difficult and lengthy negotiations over plant health protocols are in many cases prohibitively expensive and often prove unworkable for EU exporters due to what are deemed to be overly strict plant health requirements.
This imbalance between the EU and China was one of the main remarks submitted by Freshfel to DG Trade prior to the commissioner's visit.
In the last five years, the association revealed, EU fresh produce exports to China have risen from 476,000 tonnes in 2003 to 750,000 tonnes in 2008, while EU exports to China rose from 7,900 tonnes to 15,000 tonnes.
'These figures speak for themselves and indicate the ongoing lack of reciprocity on market access, despite the accession of China to the WTO several years ago,' commented Philippe Binard, general delegate of Freshfel. 'This matter needs to be urgently addressed as there is a growing demand for EU produce on the Chinese market.'
To date, only a limited number of EU member states have secured plant health protocols, which are a pre-requisite to be able to export to China.
Such protocols are currently only available for French apples, Italian kiwifruit and Spanish oranges and soft citrus, with other protocols being prepared for French kiwifruit and Belgian and Dutch pears.
However, the introduction of a protocol in itself did not guarantee unfettered access for the product concerned, said Mr Binard.
'China remains highly protectionist and delays in negotiating import permits are unacceptable,' he continued. 'These costly practices sharply contrast with the EU import procedure, which does not limit the export opportunity of Chinese produce to the EU market.'