The first varieties are being harvested with prospects good for the season ahead as the industry expands
The sweet cherry season in Moldova has just begun. Despite poor pollination for medium and late varieties of cherries in some regions of the country, the overall harvest looks promising and sweet cherry producers are looking forward to establishing partnerships with importers from all over the world.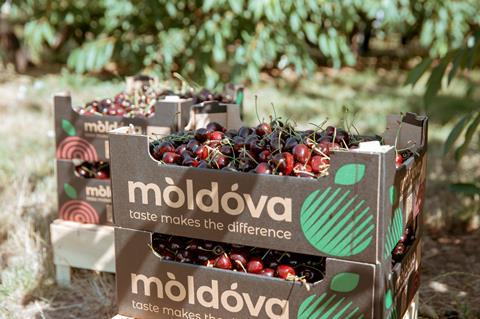 "The season looks promising, and we've already begun harvesting the first varieties in our orchard," says Ion Tulei, manager of FarmProd Ltd, a member of the Fruit Producers and Exporters Association of Moldova. "Our fruits can be delivered in a wide range of packaging, according to buyers' requests, including traditional wooden crates or carton boxes of diverse size."
"We have all types of cherry varieties, from early to late," explains Mariana Paslaru, director of Staragro Group. "Due to the investment we made this year in purchasing a hydrocooler and grading line for cherries, we are ready to meet importers' requirements and are willing to submit offers for any international market. Last year, we made our first delivery to the Netherlands market, and we intend to continue our efforts this year to diversify markets for cherries."
Moldovan producers are ready to offer the following cherry varieties: Nimba, Red Pacific, Rocket, Frisco, Carina, Kordia, Big Star, Ferrovia, Regina and Gray Star.
"The cherry industry is expanding in the Republic of Moldova," explains Iurie Fala, CEO of Moldova Fruct. "Every year, new varieties are planted and investments are made in innovations and post-harvest technologies to ensure that the fruits are of exceptional quality and meet the highest international standards. Moldovan cherries surprise consumers with their special sweetness and natural flavour due to the fertile soils and unique climate zone. Moldova's sweet cherry production is currently about 15,000 tonnes per year, with availability from the end of May until the first half of July."
The country is already among the world's top 15 exporters of sweet cherries. Moldova is becoming an extremely attractive source of high-quality sweet cherries in the upcoming season, with just 2-5-days for transportation from Moldova to the most important EU markets and benefiting from 0 per cent import tax preferential quota for EU markets.
To meet more potential sweet cherry suppliers, please contact Moldova Fruct, one of the biggest associations for fruit producers and exporters in the region:
Alexandra Bicu, Marketing specialist, Moldova Fruct
Tel./WhatsApp: +373 68 355 770
Email: abicu@moldovafruct.md
moldovafruct.md/en