Companies who want to exhibit at world's leading fruit and vegetable trade fair must book their stand by end of July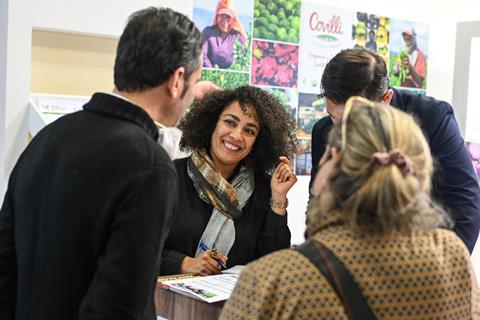 Time is running out to reserve exhibition space at Fruit Logistica 2023, where the international fresh produce trade will meet in person under the motto All in One.
Following its recent successful return, the world's largest fruit and vegetable trade fair will host the industry's biggest gathering of buyers and trade visitors in Berlin on 8 to10 February 2023.
Last April, the event overcame pandemic restrictions to attract more than 40,000 buyers and trade visitors from around 130 countries, and more than 2,000 exhibitors from 87 countries.
Almost 90 per cent of trade visitors said they planned to attend again. The fact that 79 per cent of them held management positions, and 85 per cent came from abroad, made the event the best place to meet a truly global audience of decision-makers face to face.
No surprise then, that companies from across the entire global fresh produce industry have already secured their exhibition space for Fruit Logistica 2023.
And with just a few weeks to go until the booking deadline on 31 July 2022, those exhibitors have a guaranteed chance to promote themselves to a wide audience, and a valuable opportunity to connect with the best in the business – all in one place.
"Fruit Logistica is important for us because our main stakeholders and competitors of the market are there and we are able to promote our innovations," says Santiago Patino Arevalo of Bayer Crop Science. "lt is great to interact with people face to face again."
With so many people and companies from across the industry together in one location, Fruit Logistica also represents the best place to discover ideas and innovations that will help tackle the current economic crisis and secure new opportunities to grow.
"I'm particularly excited about the new technologies that deal with the value chain from start to finish," says Adegboyega Daniel Sodade of sustainable trade association Coleacp.
Taking part in Fruit Logistica 2023 is the best way to bring innovations to the attention of a global audience. The closing date for exhibitor applications is 31 July 2022.
Stand registration forms are available here on the Fruit Logistica website.