Fruit Logistica arrives in Almería and Murcia with two conferences on sustainable innovation
Fruit Logistica is organising two conferences on sustainable innovation for fruit growers, marketers, auxiliary and technological companies in southern Spain.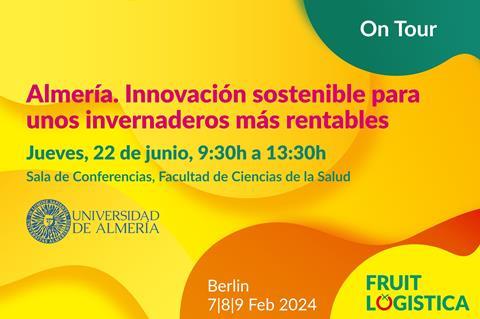 The first will take place at the University of Almería (UAL) on 22 June and the second at the Murcian Institute for Agrarian and Environmental Research and Development (Imida) on 6 July.
Speakers including Jorge Antonio Sánchez, professor of systems engineering and automation at UAL and Hispatec's Pascual Romera Mateos will discuss a range of topics including digitisation and renewable energy in the greenhouse; digital systems and the role of state-of-the-art cooperatives in central Europe.
"Climate change and the demands of international markets are motivating a transition towards a new economic model and producers are having to seek more sustainable solutions in a scenario of constant pressure on their production costs. This is almost never easy," said Silvia de Juanes, Fruit Logistica's director of communication in Spain.
"At Fruit Logistica we are convinced that technology can help a lot in this transition. Furthermore, it is an area that is undergoing impressive development."
De Juanes said requests from companies to exhibit in the technology area at Fruit Logistica are increasing every year and already account for a good percentage of the total exhibition space in Berlin.