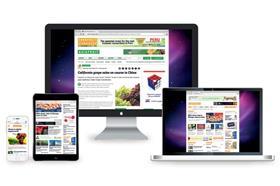 Fruitnet is preparing to launch Fruitnet Daily News, a free daily round-up of the most important stories from the international fresh produce business, at the end of October. Here, Fruitnet's managing editor Mike Knowles explains the thinking behind the news provider's latest venture.
Can you tell us about Fruitnet's plan to launch a daily news service?
Mike Knowles: Over the past few years, demand for a truly global fresh produce news service with coverage of all the key markets and suppliers has increased considerably. Although regional and continental services are available, we felt there was a major gap in the market for something which can satisfy that growing demand on a daily basis. That's why we are launching Fruitnet Daily News at the end of October.
Some people presumably won't be as familiar with the Fruitnet name as they are with the names of your other publications, for example Eurofruit and Asiafruit. Can you explain a bit more about Fruitnet?
MK:Fruitnet is the home of Eurofruit, Asiafruit, Americafruit, Fresh Produce Journal and Produce Plus on the web, and a platform for those titles to reach a wider online audience. Together with Germany's leading fresh produce trade publication Fruchthandel Magazine, they form the Fruitnet International Media Group. Fruitnet brings together those leading industry publications to provide a single, reliable source of news, insight and analysis. As such, it is the only news provider that can deliver informed and high-profile coverage of the entire global fresh produce business, reporting on developments in all major markets via its international network of reporters. The coverage is comprehensive, but not congested: Fruitnet's editors select only the most relevant and important stories for publication.
You're going to be sending Fruitnet Daily News out for free, correct?
MK: That's right. Fruitnet Daily News is a free, premium-quality news service that will be sent via email to tens of thousands of fresh produce industry professionals worldwide every day. All current subscribers to Eurofruit, Asiafruit and Americafruit will be automatically transferred to the mailing list and sent Fruitnet Daily News instead of the regional Newsline emails they used to receive, but anyone else can sign up to receive the newsletter free of charge. A certain proportion of the articles will be behind a paywall, but there will be plenty of content available without having to pay.
What will be the main focus of the newsletter?
MK: Fruitnet Daily News will provide coverage of key international developments within the fresh produce business in Europe, Middle East, Africa, Asia, North America, Latin America and Australasia, focusing in particular on the world's established and emerging markets as well as their suppliers. The stories, interviews and features will be carefully selected produced by the editors and journalists behind Eurofruit, Asiafruit and Americafruit.
To receive Fruitnet Daily News, enter your email address in the box at the top-right of the page, or contact Ed Livingstone via subscriptions@fruitnet.com or by calling +44 20 7501 0311.
To advertise on Fruitnet and Fruitnet Daily News, please download the attached media pack or contact the Fruitnet sales department via advertising@fruitnet.com or call +44 20 7501 0313.