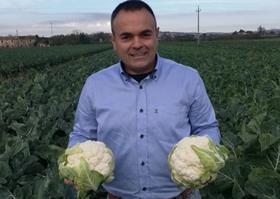 Fruit & Veg: Natural Health! (Fruvenh), the project promoted by AOP Gruppo Viva and financed by the EU, has said that it is going to be a good year for the European cauliflower crop.
Fruvenh brings together companies from the Italian fruit and vegetable sector, targeting Italy, the Netherlands and Romania specifically.
According to Fruvenh, the European harvest is showing 'excellent characteristics for quality' with a stable supply. 'Consumption, however, is not brilliant in this first phase of the campaign which started very calmly.'
European production of cauliflower is expected to reach a total of 1.9m tonnes. Italy is the leading producer followed by Spain, France and Poland.
'In Italy, 2020 production reached 365,000 tonnes and, certainly, Aop Gruppo Viva plays an important role for this vegetable with the productions of Canova, organics concentrated in Romagna and Puglia, and the production of Op Codma in the Marche region,' Fruvenh explained.
On the market front, Riccardo Pazzaglia, Codma's sales manager, spoke about a campaign that started slowly, especially due to the close link between the consumption of cauliflower and colder temperatures, which have not yet occurred in Europe.
'Codma sells cauliflower throughout Europe, with varieties of great organoleptic quality, thanks to the typical production area of the Marche region which also offers, in the final phase of the campaign, the Fano cauliflower, particularly appreciated for its typicality,' said Pazzaglia.

'The difficulties of the year', Pazzaglia emphasised, 'are mainly related to the increase in the costs of raw materials and the technical means necessary for cultivation. We are talking about increases that exceed, at times, 30 per cent and that are not recognised in the sale phase.
'The problem is generalised and I think it needs to be tackled collectively because it is putting producers in great difficulty.'
Due to its taste and health characteristics, cauliflower is one of the protagonists of Fruit and Veg: Natural Health!, the European project of AOP Viva. now in its second year of activity.
The project aims to promote European Union fruit and vegetable products which are characterised by high organoleptic and nutritional quality, together with the importance of food safety and a balanced and natural diet in Italy, Netherlands and Romania.
From a nutritional point of view, cauliflower is characterised by an optimal balance of components, low caloric content and the presence of a high concentration of sulforaphane, a phytochemical complex recognised by various scientific evidences as a natural antitumor.