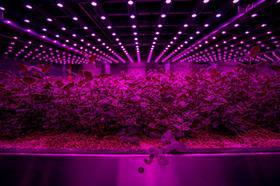 Agri-tech start-up Future Crops has developed the first indoor vertical farming system that grows its crops in a unique soil substrate composition, as it looks to bring the farming concept 'closer to home and to the earth'.
The Israeli-Dutch venture has established a fully automated 8,000m2 indoor vertical farm in Westland, Netherlands.
The nine-story facility is powered primarily by solar energy, and combined with high precision agricultural technology. Future Crop said it provided optimal growing conditions for a broad spectrum of leafy greens and herbs.
Future Crops CEO and co-founder Gary Grinspan said that this method of cultivation not only delivered quality fresh produce, but also enabled the produce to reclaim its original characteristic taste and aromas that had been 'degraded following decades of pesticide use and industry pressures to place the focus on boosting output'.
The company utilises data-driven technology to tailor the ideal environmental conditions for crops to thrive within a highly controlled, automated structure.
The system controls dozens of parameters of growth conditions, including humidity, temperature, and lighting to create optimal climatic conditions to suit each crop.
"Plants will draw what they need from nature," Grinspan explained. "Our team of agronomists are able to 'listen' to each plant to determine its individual needs in real time – how much 'sleep' versus light, the type of light, air quality, how much water, specific nutrient needs, etc.
'The plants 'respond' in their own unique language as expressed via small nuances such as changes in morphology, shape, size, and colour,' he noted. 'Via these signals, our algorithm can be primed to provide the plants precisely what they need at each stage of their life cycle."
The crops are grown in a soil-based substrate, with Future Crops composing a unique nutrient enriched soil-like recipe as the bed for growing all its produce to keep it close to 'what nature intended'.
"We learned from nature and did not want to change its rules,' Grinspan continued. 'Our system can consistently grow a comprehensive range of herbs and leafy microgreens throughout the year, completely free of any pesticides or biological substances, and with zero dependence on climate conditions."
Future Crops currently runs supply contracts with a leading grocery retailer in the Netherlands and with additional retailers in Europe.