New facility designed to minimise bruising to fruit, increase packaging capacity through multiple processing lines, reduce water consumption and improve occupational health
Fyffes has continued to invest in its own banana production in Costa Rica by building a new packhouse at its farm Victoria in Sarapiqui de Heredia, Costa Rica.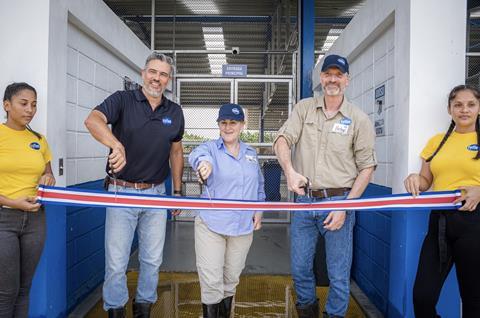 According to the group, the new packhouse has been designed to promote employee wellbeing and safety while enabling improved efficiencies and supporting its sustainability targets.
The inauguration event included the attendance of Fyffes business partners Grupo Acón, Grupo Colono, Jardín del Tigre and the Costa Rican banana authority Corbana (Corporación Bananera Nacional).
Fyffes was represented by its CEO Helge Sparsoe and chief supply officer Sheila McCann-Morrison, who addressed employees and thanked them for their ongoing contribution to the company.
Fyffes said that the modern design of the new packhouse minimised bruising to the fruit, increased packaging capacity through multiple processing lines and reduced water consumption by up to 40 per cent.
It also improved occupational health by facilitating the palletising process with two hydraulic tables and anti-fatigue mats in the selection, weighing and packaging areas, the company stated.
Fyffes regional banana production manager Leslie Medina said the project was a joint effort within Fyffes, capitalising on knowledge and experience to increase productivity.
He acknowledged the support of Fyffes business partners and the performance of the farm management who oversaw construction of the new packhouse and the substantial expansion of hectares.
Sparsoe meanwhile pointed to the company's value 'Winning Together' and explained the importance of collaborating in the long term to face the challenges that the future may bring.
"Winning together also includes our communities, our partners and allies because if we don't work together, we will face many more significant challenges ahead," he said.
McCann-Morrison spoke about the role of groundbreaking innovation as a fundamental driver to the group's ongoing sustainability both within Fyffes-owned farms as well as with strategic business partners.
Corbana general manager Jorge Sauma recognised Fyffes as one of the companies that operate in Costa Rica with the most vision for the future and highlighted its effort to provide good working and safety conditions to its employees.
"The new Fyffes packhouse is proof of the banana industry's commitment to innovation, safety, and sustainability," Fyffes outlined.
Investment in technology and equipment demonstrates a desire to continually improve the quality and efficiency of production processes, while the focus on safety ensures that workers are always treated with respect and dignity."