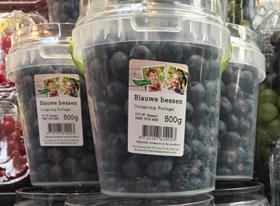 This week's Global Berry Congress, which welcomed around 350 delegates to the Dutch city of Rotterdam, threw light not only on the strength of the berry sector but on the rapid rise of certain segments, chief among them blueberries.
Cort Brazelton of Fall Creek Farm & Nursery in Oregon, US, traced the forgotten origins of the blueberry, whose commercial production owes its existence to Elizabeth White and Dr Frederick Coville, reported to have created the first cultivars exactly 100 years ago.
To mark this neglected anniversary, Brazelton took a wry look at the berry's prospects for the coming years, including the impact in four years' time of an apparently wigless Donald Trump's bid for re-election.
More seriously, he warned of the effect of the continuation of current growth rates in blueberry production, recommending a significant slowdown globally, while stressing the importance of affordability.
"We have to make good, healthy fruits and vegetables affordable," he stated, "and blueberries should be a leader in this."
Poland remains the largest blueberry producer in Europe, with Dominika Kozarzewska of Polskie Jagody suggesting the country perhaps deserved a little more recognition.
"The Polish blueberry story is a huge success, and the world should know about it," she said. 70-80 per cent of Poland's volume is exported, she went on, with growth presently seen in the Netherlands, Germany and Scandinavia. "Growth in South East Asia is also phenomenal – Polish exports will grow up to three-and-a-half times more in 2016 than in 2015."
Dominik Wozniak of Polish exporter Rajpol referred also to increasing interest in blueberries on the domestic market. "Consumption is growing very fast," he said. "Four years ago, the biggest discounter in Poland didn't sell Polish blueberries. Since it introduced them, sales have grown steadily, which is a good sign."
David Northcroft of Waitrose illustrated the importance of the berry category to the UK retailer, as well as the enormous growth recently witnessed by blueberries and raspberries.
"40 per cent of our berry business over the last six months has been in blueberries and 31 per cent in raspberries," he said.
He also highlighted the importance of selecting the best varieties to ensure availability and consistency in quality. "We cannot afford to disappoint people on quality," he explained. "These days you get instant feedback from the consumer."