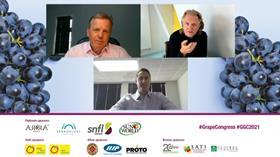 Fruitnet welcomed more than 1,400 attendees from 74 countries to this week's first Global Grape Congress, a '24-hour' programme of discussions on the most important trends and challenges in the fresh grape category.
The online event was split into three time zones (Asia, Europe and Americas) to allow attendees to follow a tailored programme from wherever they were in the world and catch up with the rest on demand.
The importance of producing consistent quality came up repeatedly throughout the event, as did the urgency of sustainability in the age of climate change, including with higher-resistance varieties, better protection of the soil and technologies to reduce waste.
Capespan's Geoff Green spoke about the value of selling grapes at their freshest when they're looking their best, while Giumarra Vineyards' Randy Giumarra raised the challenge of labour availability in what is one of the most labour-intensive categories.
Evolving communication
In a talk on the impact of Covid-19, Alyson Dias of the California Table Grape Commission (CTGC) pointed to research that many grape consumers would stick to online shopping far beyond the current pandemic, meaning a permanent change in the way to reach many shoppers.
She also highlighted the importance of communicating the many health benefits of grapes in the wake of the crisis.In a CTGC study, more than 96 per cent of grape consumers said they were more likely to purchase the fruit having discovered that grapes helped to boost the immune system.
The need for clear communication, to both consumers and retailers, was a recurring message.
'Branding, marketing and packaging are very important,' said IFG's Pablo Gomez. 'The varieties can be great, but if we don't explain what kind of flavour and taste they offer, we have a problem.'
From quantity to quality
Simon Ng from Dairy Farm Group in Singapore said that, contrary to what many believed, consumers were willing to pay extra for fruit that was produced to higher environmental standards.
There was a massive opportunity for organic grapes, he said, given grapes' current under-representation in the organic sector. 'Consumers are not afraid to pay,' he stated, 'but the quality has to be there consistently.'
According to Lyu Ke of Beijing Sangreen International, Chinese consumers were shifting their focus from quantity to quality, with eco-friendly and organic products gaining in popularity.
From India, Nina Patil of Fresh Express explained the benefits of sustainable regenerative farming and female empowerment in the grape category, while Henko Vlok of SIZA in South Africa reminded viewers that conventional farming was equally seeing a clear shift toward more eco-friendly farming techniques.
Breeders digest
On the breeding side, Andy Higgins of IFG, Garth Swinburn of Sun World, Rafi Karniel of Grapa Varieties and Josep Estiarte of SNFL spoke of the development of new proprietary varieties and the importance of intellectual property.
For grape breeders, a major challenge is the fact that it takes several years to breed a new variety, making it essential to analyse and predict long-term trends in consumption. Given the unpredictable impact of climate change, attendees heard, that job was of course becoming more difficult.
All the breeders agreed, IP protection was what allowed them to continue to develop new varieties to bring to the market, and a lack of awareness about plant variety rights was at the heart of issues surrounding IP infringement.
Boxing clever but simple
Viewers also learnt of the efforts being made to boost sustainability in grape packaging. Since avoiding packaging altogether was an unrealistic option for a product such as grapes, a balance would always have to be found between reducing packaging and avoiding food waste.
Key, according to Eosta's Paul Hendriks, was the need for solutions that were easily understood and could easily be followed by consumers.
"If you have a cardboard tray, even without telling the consumer what kind of paper it is, he will throw it away in the waste paper and it will be recycled," he said. "If we make sure it's from a good source – FSC wood or preferably agricultural waste – and it is recyclable like normal paper, then you've gained a lot of advantages."