Sofrupak CEO Witold Gaj tells Eurofruit that sustainable options will remain at the forefront despite the current economic environment
Polish packaging company Sofrupak has prepared well for the challenges born out of the current economic downturn, and sees a bright future for green packaging regardless of factors such as rising costs and a greater consumer focus on price.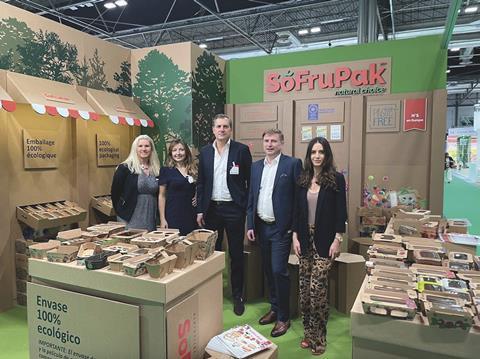 "Certainly, everyone is closely watching geopolitical and economic events across the world, because they already have and will have an impact and consequences on business," says CEO Witold Gaj. "We are also observing the situation and we are aware of the threats, and thus we are preparing for various eventualities. We are secured in terms of energy and raw materials."
Unlike the Covid-19 pandemic, Sofrupak had time to prepare for the economic crisis. The company will move smoothly into 2023 to secure its customers and, despite the problems caused by the war in Ukraine, it is planning for growth and investment.
New solutions
"We are constantly looking for packaging solutions that will reach new customers and industries not yet served by us," Gaj explains. "Some are ready to be included in the offer, such as our packaging with a removable handle, HandyPak."
In addition to new technical solutions in Sofrupak's packaging range, it is also eyeing markets where it is expecting strong developments. In addition to Europe, Sofrupak also sells to South America and is aiming to tap into the US market.
Consumers are also affected by rising costs and are expected to consider products more suited to their budget. But at the same time, Gaj says it is worth focusing on quality, not quantity, for the sake of health and the planet. "The comforting thing is that for generations Y and Z, it is an innate, natural task to take care of our planet," he outlines. "For them sustainability will certainly remain important."
Key markets
Germany, France and the Netherlands are important for Sofrupak – highly developed markets where consumers are ready to buy fruit and vegetables in the ecological, biodegradable and compostable packaging the group offers. The company cooperates with many fruit growers and distributors and supplies packaging to leading retail chains such as Lidl, Biedronka, Carrefour.
"Another interesting market is Spain," says Gaj. "For sure, this season will show how the community of producers, distributors and consumers in Spain will adopt new regulations regarding the reduction of plastic consumption.
"Of course, we do not forget about other European countries to which we deliver packaging, as well as about the domestic market. Poland is a major producer of strawberries and blueberries and a constantly growing market.
"We are a witness and partly the perpetrator of the material transformation in the world, but we still have a lot to do to reduce the use of harmful materials and properly manage waste," he adds.