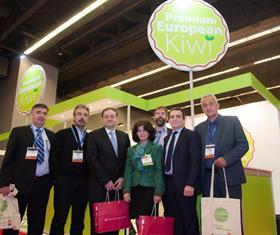 The first event of the Premium European Kiwi campaign took place in Dubai at the end of September at the Palace Downtown Dubai Hotel. More than 90 participants, including representatives of the Dubai Municipality, policymakers, importers, nutritionists and journalists, were given an opportunity to taste unique recipes based on kiwifruit, as well as to talk with European producers about the quality and taste offered by European kiwifruit.
The event was organised by four producer organisations from Greece, the Agricultural Cooperative of Chrisochori Nespar, Agricultural Association Nestos, Alkyon and Goustera, which are cooperating to implement the Premium European Kiwi promotional campaign.
The aim is to promote the "superior quality" and "naturally sweet taste" of European kiwifruit in the UAE market. During the trip to Dubai, the producers were given the chance to visit local importers to show them the quality offered by European kiwifruit, with excellent results that are already translating into new export agreements.
Other promotional activities, such as outdoor advertising, in-store promotions, visits to Greece and trade show participation, will take place for the next two years of the three-year-long campaign. Aside from the UAE, the Premium European Kiwi campaign is also targeting the Canadian and Chinese markets.
In November, the campaign, which is co-funded by the EU, the Greek state and the producer organisations, shifts its attention to the annual WOP Dubai exhibition on 13-15 November, where the participating producers will be able to offer samples of their kiwifruit to prospective customers.
The campaign's Alexandros Arampatzis and agronomist Christos Lagoudas will also be presenting about the potential for Greek kiwifruit in the Gulf at the Eurofruit Business Forum, organised by Eurofruit on the show floor of WOP Dubai.