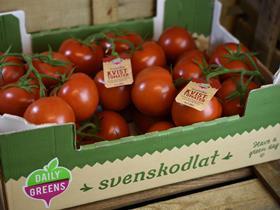 Spain-based fresh produce distributor Greenfood Iberica has announced the launch of its Plant For Life initiative, described as a 'bold and exciting project' that forms part of the company's contribution to building a sustainable future for all.
Plant For Life will see Greenfood Iberica, part of Greenfood Group, one of the largest corporate groups operating in the Nordic healthy food industry, donate one tree for every metric tonne of fresh produce sold by the company under its Daily Greens brand.
The donation will go to the Plant-for-the-Planet foundation which will plant the trees and nurture their development and, by the end of this year, 2,500 trees will have been planted in Mexico's Yucatán Peninsula as a result.
"No more talking, let's start doing something positive!' said Greenfood Iberica CEO Jussi Alitalo. 'Our planet needs us, and at Greenfood Iberica we believe that it's time to take action.
'Each time our customers buy Daily Greens produce from us, they will be contributing towards offsetting the carbon footprint generated by the production and transport of those products,' Alitalo continued. 'The more Daily Greens that we sell, the better the impact we can have for our planet and our people."
Greenfood Group has a fully operational, group-wide sustainability organisation that operates long-term based on the UN's Sustainable Development Goals for 2030.
Plant For Life is designed to align with Goal 13 for Climate Action and Goal 15 for Life on Land, which pledge to address global warming, and to reduce the loss of natural habitats and biodiversity, respectively.
The company has chosen to support reforestation since forests are regarded as being crucial for combatting climate change.
According to the UN, trees are the most effective, as well as the cheapest, means of absorbing carbon dioxide (CO2). Planting trees, therefore, will allow more time to reduce greenhouse gas emissions to zero, and to mitigate the crisis of global climate change.
"Greenfood Iberica is a transparent, open, honest and ethical company that strives to do better,' Alitalo added. 'We want to grow with our customers by helping them to offer consumers healthy, sustainable and tasty products that have been ethically produced, with respect for workers' rights, and supplied in practical packaging. Our Plant for Life project represents another important step along this journey.'