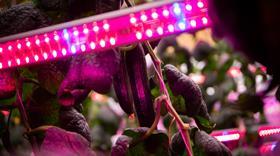 Nordic fresh produce company Greenfood has revealed plans to build a series of vertical farms at strategic locations around Sweden, as pressure on the availability of land continues to increase.
In partnership with food tech startup Agtira, the company will use the centres to grow vegetables all year round, to meet growing demand for sustainable, locally produced food.
The facilities will employ closed-loop water systems, LED lighting and artificial intelligence systems.
As a result, said Greenfood, they will save an estimated 95 per cent of the water used in equivalent conventional production, and produce crops without the need for direct sunlight.
"This technology is part of a sustainable future," said Ted Stenshed, chief executive officer at Greenfood Fresh Produce. "By combining tech with vertical crop growth, these ten urban cultivation systems will both reduce food transportation, reduce water consumption, and increase the degree of self-sufficiency locally."
Agtira has been invited to set up and operate ten production units on behalf of Greenfood, which will then use its established distribution network to supply customers with the vegetables produced.
"With the help of modern technology, we can together produce healthier and more sustainable food, around Sweden," commented Mattias Gemborg, CEO of Agtira. "Smart farming systems will play a central role in Sweden's future development of sustainably produced food."
David von Laskowski, president and CEO of Greenfood Group and its salad bar franchise concept Picadeli, added: "Innovation has never been more important. The entire food industry needs to take important steps towards sustainable development. Therefore, we continue to establish collaborations and partnerships to strengthen and share our ability to innovate and contribute to sustainable growth."
Picadeli is another example of how Greenfood has used advanced technology to build a more sustainable food network.
Its ordering system uses AI to forecast supply and demand accurately, and to reduce food waste in its salad bars.